2018 Toyota Camry TPMS Tire Pressure Warning Light Reset – The Toyota Camry is a mid-size car manufactured by Toyota at the plants of Georgetown, Kentucky, and Lafayette, Indiana, United States; Altona, Victoria, Australia; Guangzhou, China and the original Toyota (Toyota, Aichi) factory in Japan. It has become and remains the best-selling car in the United States since 1997.
The new Camry presents a more muscular design, which breaks strongly with the previous one. The manufacture of Camry in Lafayette, Indiana starts this year. In common, they have ABS, front, side and curb airbags and airbags on the knees for the driver. Input / disconnecting system of the keyless motor is optionally XLE and serial in the Hybrid, navigation system with wireless connection to the mobile phone and heated seats available in the SE, XLE and Hybrid option.
2018 Toyota Camry TPMS Tire Pressure Warning Light Reset:
If you replaced a wheel, tire, TPMS sensor etc. and are now getting a warning light on your car, then the sensor needs to be reset. To reset the Tire Pressure Monitoring System (TPMS) light on your 2017 2018 2019 Toyota Camry, follow these steps:
Stop the vehicle in a safe place and turn the engine switch off and engage the parking brake.
Adjust the tire inflation pressure recommended on the tire placard located on the door panel.
Turn the engine switch to the "ON" position
Select the  by using navigation button on the left side of the steering wheel.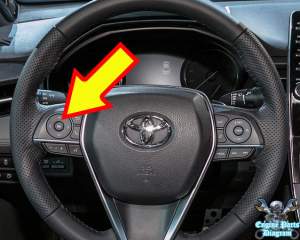 Select  (Vehicle Settings)
Select TPWS (Tire pressure warning system)
Select SET PRESSURE then press and hold the OK button until the tire pressure warning light blinks 3 times.
Calibration will complete after 30 minutes of cumulative driving at 25 mph (40 km/h)
The procedure above can be applied to the latest generations of Toyota Camry (2017 2018 2019 model years), which is equipped with a Tire Pressure Monitoring System (TPMS). Hopefully, the article of 2018 Toyota Camry TPMS Tire Pressure Warning Light Reset useful for you.
(Visited 1,179 times, 1 visits today)