How to Set Your TPMS Sensor on 2012-2017 Porsche 991 Carrera – The Porsche 991 is a sports car produced by Porsche, the latest 911 series and replacing the 997. The official presentation of the model took place at the Frankfurt Motor Show in Frankfurt in September 2011 with commercialization in 2012. The lines resemble the classic and pure Porsche style, but far more modern than the previous model. The line is unmistakably Porsche with the classic front headlights, daytime running lights with LED technology. The rear has been changed only, in particular, stand out the new headlights low profile and elongated.
It is available in three different body styles: coupe, convertible and Targa. Through the use of aluminum, steel and composite materials, the car was lightened by an average of 45 kg compared to the previous 997. Mechanically, the 991 is equipped with six-cylinder boxer propellers of 3.4 or 3.8 liters capacity combined with two different types of gearboxes: seven-speed manual or dual-clutch dual-clutch PDK automatic, the traction is rear Or integral 4.
How to Set Your TPMS Sensor on 2012-2017 Porsche 991 Carrera:
If you replaced a wheel, tire, TPMS sensor etc. and are now getting a warning light on your car, then the sensor needs to be reset. To relearn, turning off or reset the Tire Pressure Monitoring System (TPMS) light on your 2012 2013 2014 2015 2016 2017 Porsche 991 Carrera, follow these steps:
Stop the vehicle in a safe place and turn the engine switch off and engage the parking brake.
Inflate all tires to pressure indicated on tire placard.
Turn the ignition to position On without starting the engine.
Use the lower lever on the right of the steering column to scroll to the menu on the multi-function info page. To select menus push the lever downwards (position 3) or upwards (position 4). To enter the menu push the lever forward (position 1). Pull the lever towards the steering wheel (position 2) to back.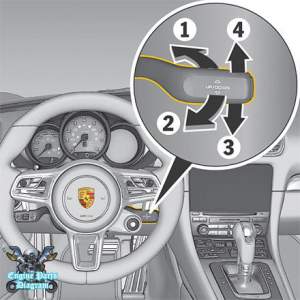 Select TPMS and enter the menu
Select Tire Type
Choose new tire type and tire size that you have installed
Driving for a few miles (kilometers), calibration will complete after 2 minutes of cumulative driving at speed above 16 mph (25 km/h).
For more details, please watch the following video:
This procedure should be work on the latest generation of Porsche 991 Carrera (2012 2013 2014 2015 2016 2017 2018) model years. Hopefully the article of How to Set Your TPMS Sensor on 2012-2017 Porsche 991 Carrera useful for you. Good Luck!
(Visited 846 times, 1 visits today)