2016 Porsche Panamera Tire Pressure TPMS Light Reset Guide – The Porsche Panamera is a luxury coupe 4-door, sold by the end of May 2009. For the German car manufacturer, this is a previously unreleased model, by which it has been able to expand its range of vehicles, being the first four-door sedan as standard. In 2016, the second generation was launched and in 2017 a variation shooting brake called the Panamera Sports Turismo.
The presentation, which took place in April 2009 in China, has revealed only part of the model range (3 versions), then expanded to 9 (including a diesel and a hybrid). There is also the wheelbase lengthened by 15 cm, called the Executive. In April 2013 is presented a restyling that in addition to modification of optical and bumper groups introduces some novelty at motoring level. The 4.8 V8 400 HP has been replaced by the most powerful and versatile 3.0 V6 bi-turbo with 420 hp for S version.
2016 Porsche Panamera Tire Pressure TPMS Light Reset Guide:
If you replaced a wheel, tire, TPMS sensor etc. and are now getting a warning light on your car, then the sensor needs to be reset. To relearn, turning off or reset the Tire Pressure Monitoring System (TPMS) light on your 2014 2015 2016 2017 Porsche Panamera, follow these steps:
Stop the vehicle in a safe place and turn the engine switch off and engage the parking brake.
Inflate all tires to pressure indicated on tire placard.
Turn the ignition to position On without starting the engine.
Use the rotary knob on the right of the steering wheel to scroll through the menu on the multi-function info page. To highlight the menu turn rotary knob upwards or downwards. To enter the menu push the rotary knob.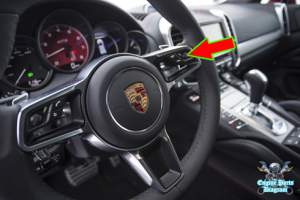 Select TPMS and enter the menu
Select Tire Type
Choose new tire type and tire size that you have installed
Driving for a few miles (kilometers), calibration will complete after 2 minutes of cumulative driving at speed above 16 mph (25 km/h).
For more details, please watch the following video:
This procedure should be work on the latest generation of Porsche Panamera (2014 2015 2016 2017) 2016 Porsche Panamera Tire Pressure TPMS Light Reset Guide useful for you. Good Luck!
(Visited 835 times, 1 visits today)