How to Set TPM Tire Pressure Monitoring on 2009 Porsche 997 – The Porsche 997 is a sports model version of the German car manufacturer Porsche, the 911. The production began in 2004 with two variants available: In 2005, the full-drive versions were marketed, in 2006 Turbo and GT3 arrived and, at the end of 2007, GT2 arrived. The version with Targa body is also available, only with integral traction. In July 2008, the restyling of the increased power of the Carrera and Carrera 4 versions of 20 hp, Carrera S and Carrera 4S of 30 hp replaced with the new Porsche 991 in 2011.
The Turbo was presented in 2006 at the Geneva Motor Show. The front has new LED position lights and new air vents, also present on the rear wheels. Like the 996 Turbo, it has a retractable wing at the rear. The engine is based on the most well-known and reliable 3.6-liter boxer and develops 480 hp at 6,000 rpm and a maximum torque of 620 N · m constant between 1,950 and 5,000 rpm.
How to Set TPM Tire Pressure Monitoring on 2009 Porsche 997:
If you replaced a wheel, tire, TPMS sensor etc. and are now getting a warning light on your car, then the sensor needs to be reset. To relearn, turning off or reset the Tire Pressure Monitoring System (TPMS) light on your 2009 2010 2011 Porsche 997, follow these steps:
Stop the vehicle in a safe place and turn the engine switch off and engage the parking brake.
Inflate all tires to pressure indicated on tire placard.
Turn the ignition to position On without starting the engine.
Use the lower lever on the left of the steering column to scroll to the menu on the multi-function info page. To select menu, push the lever downwards (position 3) or upwards (position 4). To enter the menu push the lever forward (position 1). Pull the lever towards the steering wheel (position 2) to back.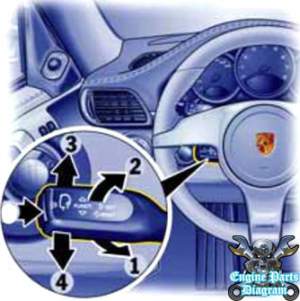 Push operating lever forward and select "TPM"
Scroll down and select "SET"
Select desired tire type that you have installed and then select "Continue"
Select the appropriate tire size (18 or 19 inches) and then select "Continue"
If the message "Process complete" appears select arrow (Back) button
"System learning" will appear on the display
Driving for a few miles (kilometers), calibration will complete after 2 minutes of cumulative driving at speed above 16 mph (25 km/h).
For more details, please watch the following video:
This procedure should be work on the old generation of Porsche 997 (2009 2010 2011) model years. Hopefully the article of How to Set TPM Tire Pressure Monitoring on 2009 Porsche 997 useful for you. Good Luck!
(Visited 363 times, 1 visits today)