Nissan Pathfinder 3.5 L VQ35DE Engine Timing Marks Diagram
Nissan Pathfinder 3.5 L VQ35DE Engine Timing Marks Diagram – The Nissan Pathfinder's off-road car produced by the Japanese automaker Nissan Motor. The first generation Pathfinder, in production from 1986 to 1995, is known as the WD21, the second generation, produced between 1996 and 2004, like R50, the third generation, introduced in 2005 as R51. The current fourth generation of 2012 is called R52. In the off-road Nissan range, the Pathfinder is placed between the X-Trail and Patrol. The first generation Pathfinder was sold in two different bodies: two doors (since 1986) and four doors (since 1990).
The fourth generation of the Pathfinder is revealed at the end of 2012 and presents important innovations in both aesthetic and mechanical: the new basic platform is completely new, is uses the monocoque platform of the Nissan Murano that compared to the previous frame F-Alpha spars it is lighter. But the new Pathfinder also loses low range becoming a classic medium-large SUV meant that more asphalt to gravel roads. A close relation of the new Pathfinder is the Infiniti XJ not imported into Europe. It is produced for the first time is in a 4WD version that front-wheel drive. Production of the new Pathfinder takes place at the plant in Tennessee, United States and is currently not intended to be imported or produced in Europe, giving way to the more compact X-Trail and Murano. Also new is the use of a new engine-transmission unit consists of the 3.5 V6 with 265 hp mated to the Xtronic CVT.
Nissan Pathfinder 3.5 L VQ35DE Engine Timing Marks Diagram: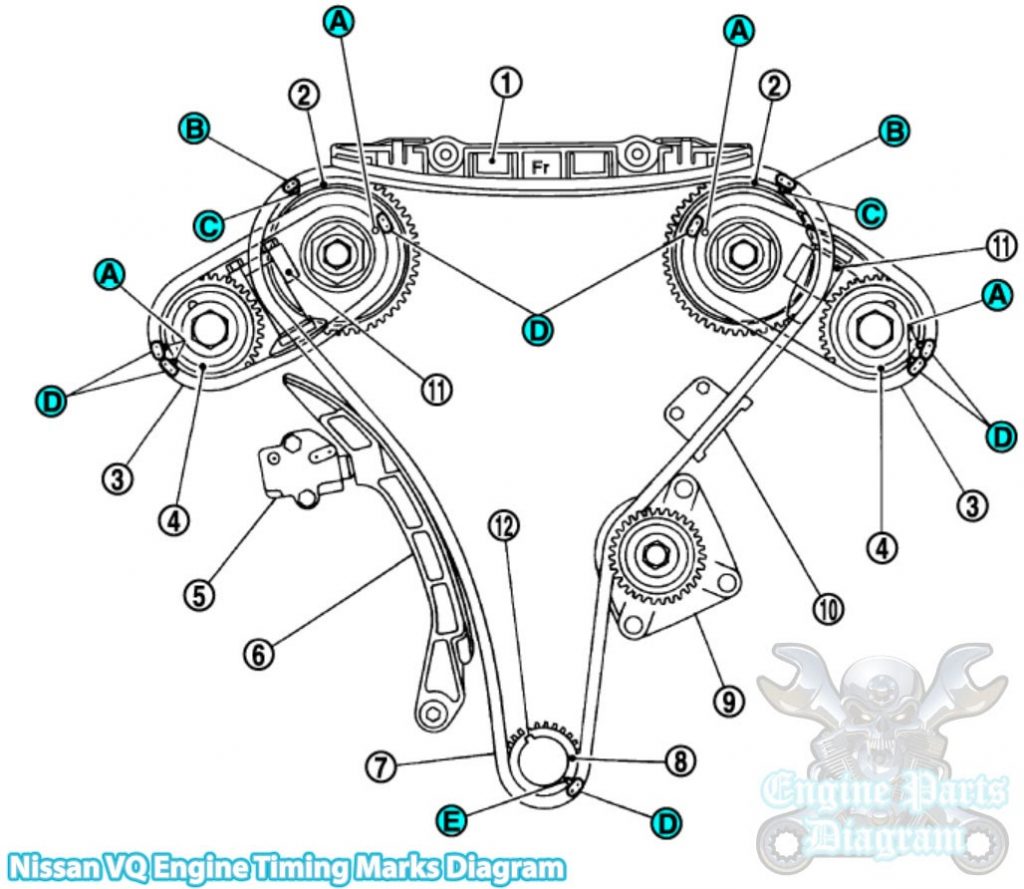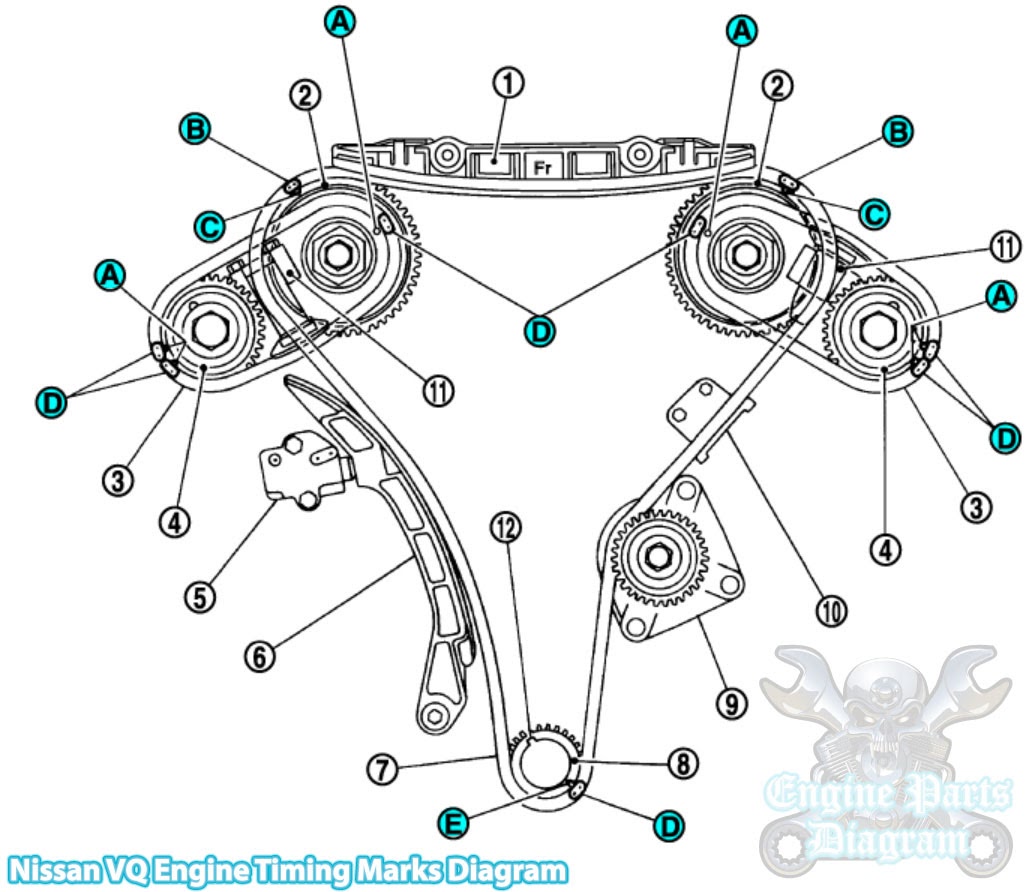 1. Internal chain guide
2. Camshaft sprocket (INT)
3. Timing chain (secondary)
4. Camshaft sprocket (EXH)
5. Timing chain tensioner (primary)
6. Slack guide
7. Timing chain (primary)
8. Crankshaft sprocket
9. Water pump
10. Tension guide
11. Timing chain tensioner (secondary)
12. Crankshaft key
A. Mating mark
B. Mating mark (pink link)
C. Mating mark (punched)
D. Mating mark (orange)
E. Mating mark (notched)
Note: The above figure shows the relationship between the mating mark on each timing chain and that on the corresponding sprocket, with the components installed. For more detail please watch the following video:
Under the symbol, VQ means a large family of internal combustion engines manufactured since 1994 by the Japanese automaker Nissan. The arrival of 2000 coincides with the debut of a new version of the VQ family. It is a thorough rethinking VQ30DE unit, whose bore and stroke measurements were taken by 93×73.3 mm 95.5×81.4 mm, with a total capacity that increases from 2987 to 3498 cm³. This engine was offered in about a dozen different variants, with outputs ranging between 217 and 300 hp.
This diagram is based on the Nissan workshop manual. The above diagram applies to Nissan Pathfinder 2001 2002 2003 2004 2013 2014 2015 2016 2017 model years. In addition, this engine is also applied to several cars such as:
2001–2004 Infiniti QX4
2002–2004 Infiniti I35
2003–2006 Nissan 350Z
2003–2006 Infiniti G35
2003–2008 Infiniti FX35
2004–2016 Nissan Quest
2006–2008 Infiniti M35
2013–2013 Infiniti JX35
2014–2016 Infiniti QX60
Hopefully, the article of Nissan Pathfinder 3.5 L VQ35DE Engine Timing Marks Diagram useful for you.