How To Check and Reset Tyre Pressure on 2018 Skoda Karoq – Škoda Karoq is a five-seater SUV of the Škoda brand. It was presented in 2017 and comes to replace the Skoda Yeti. At the beginning, it was expected that it was the second generation keeping the name but finally it was decided to renew it using a new one. The design of this new model is based on the SEAT Ateca, with very similar lines but differentiated from it.
With the arrival of the Karoq, the SUV range is completed with the 5-seater version of medium size, based on the SEAT Ateca and with a design very similar to its 7-seater older brother the Škoda Kodiaq. All of them are developed with the MQB platform and developed in the Škoda plant in Kvasiny. All the versions have an option of the manual transmission of 6 speeds or automatic DSG of 7 speeds. The all-wheel-drive system is optional on the basis of the Ambition finish and standard on the 190 hp 2.0 TDI engine.
How To Check and Reset Tyre Pressure on 2018 Skoda Karoq:
If you receive a low-tire-pressure monitoring system (TPMS) warning light while driving and you want to clear or turning off the warning light on your 2017 2018 Skoda Karoq, follow these instructions:
Make sure the vehicle is at a complete stop
Turn the engine switch off
Adjust the tire inflation pressure recommended on the tire placard
Turn the ignition to ON position without starting the engine and switch on Infotainment
Press CAR button in Infotainment
Tap SETUP on the touchscreen to enter the Vehicle Status menu
Select Tyre Pressure Loss Indicator by using Arrow button
Tap SET button on the touchscreen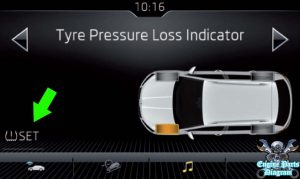 Select CONFIRM to store the tire pressure
Driving for a few miles (kilometers), calibration will complete after 20 minutes of normal driving
For more details, please watch the following video:
This procedure should be work on the latest generation of 2017 2018 Skoda Karoq models. Hopefully, the article of How To Check and Reset Tyre Pressure on 2018 Skoda Karoq useful for you. Good Luck!
(Visited 591 times, 1 visits today)