Accessing Ford Escape Hidden Menu Self Diagnostic Mode – The third generation of the Escape was presented at the 2011 Los Angeles Motor Show. It shares the same platform as the 2012 Ford Focus. Many features derive from the Ford Kuga, which is sold in Europe. There are two EcoBoost four-cylinder engines in line with supercharging.
The basic engine has a displacement of 2L and is also offered on the Ford Edge and the Ford Explorer. This new Escape series is the first to offer the new 1.6L engine, which was later also mounted on other Ford models such as the Ford Focus, Ford Fusion, and Ford Fiesta. The fuel consumption of this new engine is comparable to that of the Hybrid, while the 2-liter engine is more powerful than the V6 engine of the previous series.
Accessing Ford Escape Hidden Menu Self Diagnostic Mode:
If you want to access the instrument cluster hidden menu to perform self-diagnostic tests on your 2013 2014 2015 2016 2017 2018 Ford Escape, perform the following:
Make sure the vehicle is at a complete stop
Turn the engine switch off
Press and hold the OK button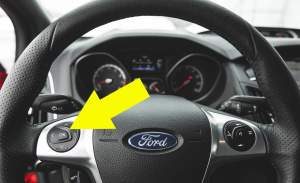 Turn the ignition to ON position without starting the engine.
When you see 'TEST' on the display, release the OK button
On this menu, you can access various test like needle sweep test, diagnostic tests, read DTC fault codes, check indicators and LCD display,  engine RPMs, fuel flow, by using the ARROW button to navigate through diagnostic mode.
If you finished, to exit Self-Diagnostic Mode turn the ignition to the OFF position
For more details, please watch the following video:
This procedure should be work on the third generation of Ford Escape (2013 2014 2015 2016 2017 2018 2019) model years. Hopefully, the article on Accessing Ford Escape Hidden Menu Self Diagnostic Mode useful for you. Good Luck!
(Visited 509 times, 1 visits today)