2012-2016 Mazda3 SKYACTIV-G Engine Timing Chain Mark Diagram – Mazda 3 2015 now everything is new, starting from the engine, suspension, exterior, interior and technology. Previously, Mazda sharing technology with Ford, but this time Mazda 100% working alone so that Mazda engineers more freedom in developing the latest Mazda. Using the 4-cylinder 1500 cc engine DOHC with SKYACTIV technology to support high-performance yet fuel efficient.
From the exterior design of the new car, Mazda 3 has a very attractive body with aerodynamic design, which comes in two variants: hatchback and sedan that everything comes with a very cool exterior. In the interior of the car in terms of the latest Mazda 3 does not much have changed substantially, but has additional features that are highly advanced audio system one that has been integrated with the Internet and your smartphone, which will add to the comfortable drive.
2012-2016 Mazda3 SKYACTIV-G Engine Timing Chain Marks Diagram: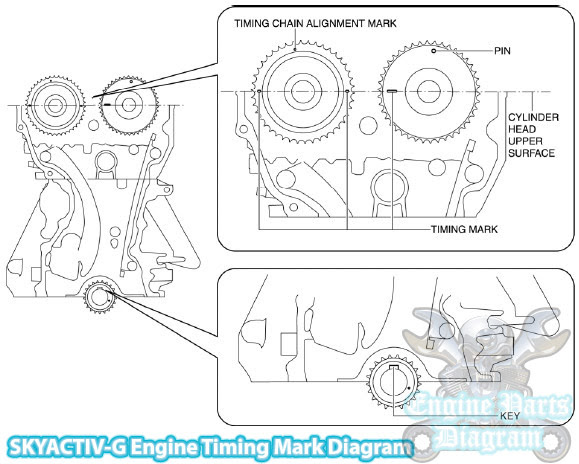 Note: Install or remove the timing chain while aligning the marks on each sprocket and the timing chain as shown in the figure. If the timing marks not in the position shown in the figure, rotate the camshaft and crankshaft to set the cylinder No.1 top dead center (TDC).
For more details please check the following video:
The diagram above applies to the Mazda3 2012 2013 2014 2015 2016 years models. Hopefully the article of 2012-2016 Mazda3 SKYACTIV-G Engine Timing Chain Marks Diagram useful for you.
(Visited 665 times, 1 visits today)