Resetting Tire Pressure System (TPMS) on Maserati GranCabrio – The Maserati GranCabrio is a sports cabriolet produced by the Italian automaker Maserati since 2010. GranCabrio is the convertible version of the famous Maserati GranTurismo coupé from which it resumes mechanics, part of the interior and the design of the bodywork; Officially presented at the Frankfurt Motor Show 2009 edition GranCabrio is the first cabriolet car produced by the trident's home thanks to the cockpit set up as a four-seat seat for the rear seats.
Initially, the car was designed to adopt a metal electrically folding soft top in the trunk, a very well-liked solution between the Coupé-Cabriolet which, however, entails high production costs and a complete redesign of the backrest that has to accommodate the roof. But to avoid internal competition due to cousin Ferrari California, Modena's technicians preferred to retain the classic lightweight multilayered roof, Foldable in 28 seconds up to 30 km / h, already used with the progenitor Maserati Spyder.
Resetting Tire Pressure System (TPMS) on Maserati GranCabrio:
If you replaced a wheel, tire, TPMS sensor etc. and are now getting a warning light on your car, then the sensor needs to be calibration. To reset or calibration the Tire Pressure Monitoring System (TPMS) light on your Maserati GranCabrio, follow these steps:
Stop the vehicle in a safe place and turn the engine switch off
Adjust the tire inflation pressure recommended on the tire placard
Turn the engine switch to the "ON" position
Press repeatedly the MODE button (A) located on the left of the steering wheel until you see "TPMS calibration"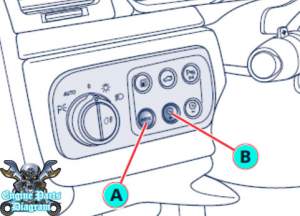 Press and hold the "+" button (B) until you see "Calibration activated" on the display
Driving for a few miles (kilometers), calibration will complete after 2 minutes of cumulative driving at speed above 16 mph (25 km/h).
For more details, please watch the following video:
The procedure above can be applied to the latest generations of Maserati GranCabrio (2010 2011 2012 2013 2014 2015 2016 2017) model years, which is equipped with a Tire Pressure Monitoring System (TPMS). Hopefully, the article of Resetting Tire Pressure System (TPMS) on Maserati GranCabrio useful for you.
(Visited 247 times, 1 visits today)