Resetting Tire Pressure TPMS Sensor on 2017 Porsche Boxster – The Porsche Boxster is a sporty roadster produced by German automaker Porsche since 1996. As anticipated by the House, at the Geneva Motor Show in March 2016, the new generation of Boxster (M.Y. 2016) was introduced, which changes to 718 Boxster, in honor of the Porsche 718 race ant: after 20 years of career, the main novelty is represented by the debut of new boxer engines to 4-cylinder turbo engine (a single turbine) instead of the classic 6 aspirates, from the perspective of downsizing and the reduction of emissions and fuel consumption, as has already happened for 911.
The line and dimensions remain similar to the previous model, and it does not change the pitch; The new headlamps, bi-xenon series with LED daytime running lights on both, can be replaced by fully LED light bulbs. Modified in shape bumper, mudguard, door and side air intake. The fuel tank drops to 54 liters of capacity based on version 64 and remains on the S, while the CX declared is equal to 0.31. Even the rear-view mirrors, albeit similar to 981 and partially varnished, are different and renewed are also the colors of the bodywork.
How to Reset Tire Pressure TPMS Sensor on Porsche Boxster:
If you replaced a wheel, tire, TPMS sensor etc. and are now getting a warning light on your car, then the sensor needs to be reset. To relearn, turning off or reset the Tire Pressure Monitoring System (TPMS) light on your 2013 2014 2015 2016 2017 Porsche Boxster, follow these steps:
Stop the vehicle in a safe place and turn the engine switch off and engage the parking brake.
Inflate all tires to pressure indicated on tire placard.
Turn the ignition to position On without starting the engine.
Use the lower lever on the right of the steering column to scroll to the menu on the multi-function info page. To select menus push the lever downwards (position 3) or upwards (position 4). To enter the menu push the lever forward (position 1). Pull the lever towards the steering wheel (position 2) to back.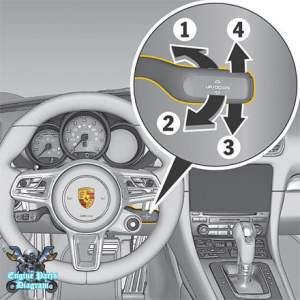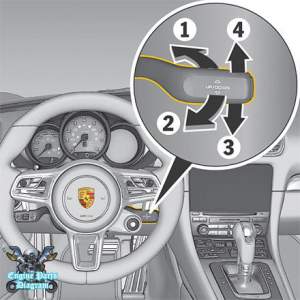 Select TPMS and enter the menu
Select Tire Type
Choose new tire type and tire size that you have installed
Driving for a few miles (kilometers), calibration will complete after 2 minutes of cumulative driving at speed above 16 mph (25 km/h).
For more details, please watch the following video:
This procedure should be work on the old generation of Porsche Boxster (2013 2014 2015 2016 2017 2018) model years. Hopefully the article of Resetting Tire Pressure TPMS Sensor on 2017 Porsche Boxster useful for you. Good Luck!
(Visited 378 times, 1 visits today)