How to Reset Low Tire Pressure Light on 2016 Porsche Cayenne – The Porsche Cayenne is an SUV the E segment produced by German automaker Porsche. It is the first model of Porsche that is not a sports car, although its performances are equivalent to those of other models of the brand, remarkable its sporting personality, to take turns of turns in mountain roads. The Cayenne was restyled in 2006, the partially modified aesthetics and mechanics. And the second generation was launched in 2010 that lasts until the present.
The Cayenne received in 2010 a hybrid version and a 3.0 TDI engine that carry the current Audi Q7 and Volkswagen Touareg. The Cayenne 3.0 TDI engine is available with an output of 240 hp. New model in 2018, Its competitors are the Volkswagen Touareg, BMW X6, BMW X5, Range Rover Sport and Mercedes-Benz Class M, Lexus RX.
How to Reset Low Tire Pressure TPMS Light on Porsche Cayenne:
If you replaced a wheel, tire, TPMS sensor etc. and are now getting a warning light on your car, then the sensor needs to be reset. To relearn, turning off or reset the Tire Pressure Monitoring System (TPMS) light on your 2015 2016 2017 2018 Porsche Cayenne, follow these steps:
Stop the vehicle in a safe place and turn the engine switch off and engage the parking brake.
Inflate all tires to pressure indicated on tire placard.
Turn the ignition to position On without starting the engine.
Use the rotary knob on the right of the steering wheel to scroll through the menu on the multi-function info page. To highlight the menu turn rotary knob upwards or downwards. To enter the menu push the rotary knob.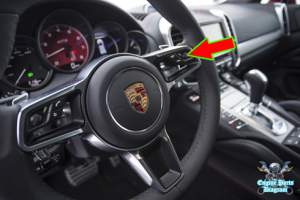 Select TPMS and enter the menu
Select Tire Type
Choose new tire type and tire size that you have installed
Driving for a few miles (kilometers), calibration will complete after 2 minutes of cumulative driving at speed above 16 mph (25 km/h).
For more details, please watch the following video:
This procedure should be work on the old generation of Porsche Cayenne (2015 2016 2017 2018) model years. Hopefully the article of How to Reset Low Tire Pressure Light on 2016 Porsche Cayenne useful for you. Good Luck!
(Visited 2,093 times, 1 visits today)