Porsche Macan Low Tire Pressure TPMS Warning Light Reset – The Porsche Macan is an all-terrain Crossover SUV based on the Audi Q5, initially announced in November 2010 as a development project, and formally announced by Porsche in March 2011, with deliveries scheduled for mid-2013. Porsche aims to cover a market position below the largest Cayenne. The car was originally known by its Cajun key name. February 16, 2012, Porsche announced that the final car name will be "Macan". The name Macan is derived from the Indonesian word meaning tiger.
The Macan will be produced alongside the Cayenne and Panamera in Leipzig, Germany, in a new plant expansion. During the design, it was noted that the body, designed by the Italian Walter de Silva, could be three doors, to distinguish it from Cayenne. He pointed to the Porsche 959 rally-raid as an inspiration for the spirit of the Macan, with the presentation of possible sketches from the Porsche house. Other sources say it will be more aggressive in the exterior design than the Cayenne, while maintaining some similar features, following the Panamera and Cayenne in their interior appearance.
Porsche Macan Low Tire Pressure TPMS Warning Light Reset:
If you replaced a wheel, tire, TPMS sensor etc. and are now getting a warning light on your car, then the sensor needs to be reset. To relearn, turning off or reset the Tire Pressure Monitoring System (TPMS) light on your 2014 2015 2016 2017 2018 Porsche Macan, follow these steps:
Stop the vehicle in a safe place and turn the engine switch off and engage the parking brake.
Inflate all tires to pressure indicated on tire placard.
Turn the ignition to position On without starting the engine.
Use the rotary knob on the right of the steering wheel to scroll through the menu on the multi-function info page. To highlight the menu turn rotary knob upwards or downwards. To enter the menu push the rotary knob.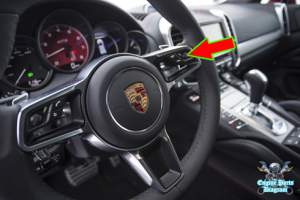 Select TPMS and enter the menu
Select Tire Type
Choose new tire type and tire size that you have installed
Driving for a few miles (kilometers), calibration will complete after 2 minutes of cumulative driving at speed above 16 mph (25 km/h).
For more details, please watch the following video:
This procedure should be work on the latest generation of Porsche Macan (2014 2015 2016 2017 2018) model years. Hopefully, the article of Porsche Macan Low Tire Pressure TPMS Warning Light Reset useful for you. Good Luck!
(Visited 2,247 times, 1 visits today)