Maserati GranTurismo Tire Pressure Monitoring System Reset – The Maserati GranTurismo is a coupé car presented by the Italian automaker Maserati during the 2007 Geneva Motor Show and produced by the same year. Designed by Pininfarina it is built on the platform of the Quattroporte the last series that had introduced the new style of Maserati, below the bonnet, we'll find Ferrari V8 propulsion engines.
While the GranTurismo, as well as a focus on aggressive line and an engine of 405 horses, focusing on comfort, with this new model Maserati GranTurismo boosted only wants to focus on sportsmanship while maintaining the luxurious interiors and finished the less powerful model. Maserati GranTurismo S is an enhanced version of GranTurismo: it mounts a 4.7-liter V8 engine of 440 hp (same as the Alfa Romeo 8C Competizione) with electrically-operated MC-Shift gearbox at the rear with transaxle configuration, the braking system is Brembo dual-cast in cast iron and aluminum with 6-piston calipers.
Maserati GranTurismo Tire Pressure Monitoring System Reset:
If you replaced a wheel, tire, TPMS sensor etc. and are now getting a warning light on your car, then the sensor needs to be calibration. To reset or calibration the Tire Pressure Monitoring System (TPMS) light on your Maserati GranTurism GT Sport, GT MC, and GT Convertible, follow these steps:
Stop the vehicle in a safe place and turn the engine switch off
Adjust the tire inflation pressure recommended on the tire placard
Turn the engine switch to the "ON" position
Press repeatedly the MODE button (A) located on the left of the steering wheel until you see "TPMS calibration"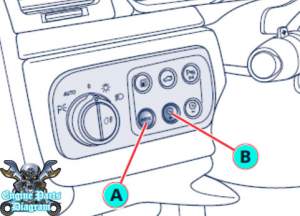 Press and hold the "+" button (B) until you see "Calibration activated" on the display
Driving for a few miles (kilometers), calibration will complete after 2 minutes of cumulative driving at speed above 16 mph (25 km/h).
For more details, please watch the following video:
The procedure above can be applied to the latest generations of Maserati GranTurismo (2010 2011 2012 2013 2014 2015 2016 2017) model years, which is equipped with a Tire Pressure Monitoring System (TPMS). Hopefully, the article of Maserati GranTurismo Tire Pressure Monitoring System Resets useful for you.
(Visited 1,409 times, 1 visits today)