How To Reset Tire Pressure TPMS Light on 2019 Cadillac XT4 – The Cadillac XT4 is a D-segment sports utility vehicle produced by General Motors under its luxury brand Cadillac since 2018. Among other features include the seven options of interior customization and the innovative system of electro-hydraulic braking assistance, being the first model of the firm to use it. This model is the first compact SUV of the US firm and the third to use the new nomenclature of the firm, after the CT6 and XT5.
This model made its debut at the New York Auto Show on March 27, 2018. For its arrival in Europe in 2019, the initially available engine will be 2.0 liters and 4 cylinders developing 240 HP of power accompanied by a system also known as TriPower3 which consists of the selective deactivation of two cylinders, coupled to an automatic transmission of nine speeds.
How To Reset Tire Pressure TPMS Light on 2019 Cadillac XT4:
If you receive a low-tire-pressure monitoring system (TPMS) warning light while driving and you want to clear or turning off the warning light on your 2018 2019 Cadillac XT4, follow these instructions:
Make sure the vehicle is at a complete stop
Turn the engine switch off
Adjust the tire inflation pressure recommended on the tire placard located on the door panel.
Driving for a few miles (kilometers), calibration will complete after 2 minutes of cumulative driving at 20 mph (32 km/h).
If you replaced a wheel, tire, TPMS sensor etc. and are now getting a warning light on your car, then the sensor needs to be reset. To relearn or reset the Tire Pressure Monitoring System (TPMS) sensor on your 2018 2019 Cadillac XT4 you must have a TPMS relearn tool and follow these steps:
Stop the vehicle in a safe place and turn the engine switch off and engage the parking brake.
Turn the ignition to position On without starting the engine.
Use the five-way DIC control on the right side of the steering wheel to scroll to the Tire Pressure screen under the DIC info page.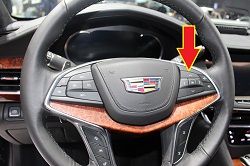 Press and hold the thumbwheel in the center of the five-way DIC control until horn sounds
Starting from the driver's side front tire, place the relearn tool against the tire sidewall, near the valve stem. Then press the button to activate the TPMS sensor until hearing the confirming horn chirp.
Repeat the procedure on the right-front tire, the right rear tire, and the last one left rear tire.
After hearing the confirming horn chirp for the left rear tire, turn ignition to OFF position. Adjust all tires to pressure listed on tire placard.
For more details, please watch the following video:
This procedure should be work on the latest generation of Cadillac XT4 (2018 2019 model years). Hopefully, the article of How To Reset Tire Pressure TPMS Light on 2019 Cadillac XT4 useful for you. Good Luck!
(Visited 24 times, 1 visits today)