Reset Tire Pressure Monitor TPM on BMW M4 Convertible / Coupe – The BMW F82, sales designation M4, is a sports coupe and the highly motorized variant of the 4-series of BMW. The Convertible itself series carries the internal designation F83. In spring 2014, the M4 was launched initially as a coupe, the convertible came in the fall on the market. The four-door sedan, which has the same engine and technically is largely identical to the M4, will continue to be marketed as M3 (F80).
The engine is a straight six-cylinder BiTurbo with 2979 cc, as well as in the M3 sedan. It offers a maximum power of 317 kW (431 hp) and a maximum torque of 550 Nm 1850-5500 min-1. You can choose between a manual six-speed gearbox and a 7-speed dual-clutch transmission, despite 40 kg latter causes more weight faster acceleration. The new turbocharged engine consumes less fuel than the high-revving V8 engine of its predecessor.
Reset Tire Pressure Monitor on 2014-2016 BMW M4 Convertible / Coupe:
If you receive a low-tire pressure monitor (TPM) warning light while driving and you want to clear or turning off the warning light on your 2014 2015 2016 BMW M4 Convertible / Coupe, follow these instructions:
Make sure the vehicle is at a complete stop
Adjust the tire inflation pressure recommended on the tire placard located on the door panel.
Turn the ignition to ON without starting the engine
Press MENU button on iDrive controller to use i menu.
Select VEHICLE INFO
Select VEHICLE STATUS
Next, Start the engine (do not drive away)
Select RESET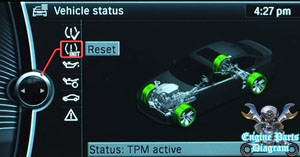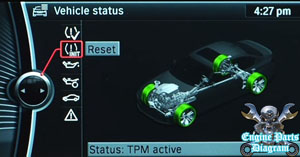 Confirm reset the inflation pressure by selecting "RESET"
Driving for a few miles (kilometers) and then verify that it turns off.
For more details, please watch the following video:
The procedure above can be applied to latest generations of BMW M4 F82 F83 (2014 2015 2016) models. Hopefully the article of Reset Tire Pressure Monitor TPM on BMW M4 Convertible / Coupe useful for you. Good Luck! 😀
(Visited 678 times, 1 visits today)