2014-2016 BMW M3 F80 Tire Pressure (TPM) Reset with iDrive – The fifth edition of the BMW M3 with the internal codes F80 is available since spring 2014. When M3 only the four-door sedan will be marketed in contrast to the previous models. The technically largely identical coupes and convertibles are now called M4 (coupe: F82; Cabrio: F83) and thus belong to the BMW 4-series.
Of driving the M3 (F80), based on the BMW F30, by a twin-turbo inline six-cylinder with 3.0 liter displacement. It delivers 317 kW (431 hp) and has 1850 to 5500 min-1 a maximum torque of 550 Nm. The acceleration from 0 to 100 km / h depending on the transmission from 4.1 to 4.3 seconds. You can choose between a manual six-speed gearbox and a 7-speed dual-clutch gearbox, the latter is despite 40 kg more weight responsible for the faster of the two acceleration values.
2014-2016 BMW M3 F80 Tire Pressure (TPM) Reset with iDrive:
If you receive a low-tire pressure monitor (TPM) warning light while driving and you want to clear or turning off the warning light on your 2014 2015 2016 BMW M3 F80, follow these instructions:
Make sure the vehicle is at a complete stop
Adjust the tire inflation pressure recommended on the tire placard located on the door panel.
Turn the ignition to ON without starting the engine
Press MENU button on iDrive controller to use i menu.
Select VEHICLE INFO
Select VEHICLE STATUS
Next, Start the engine (do not drive away)
Select RESET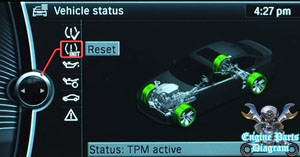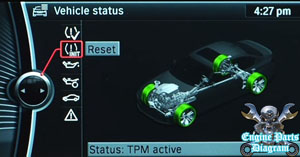 Confirm reset the inflation pressure by selecting "PERFORM RESET"
Driving for a few miles (kilometers) and then verify that it turns off.
For more details, please watch the following video:
The procedure above can be applied to latest generations of BMW M3 F80 (2014 2015 2016) models. Hopefully the article of 2014-2016 BMW M3 F80 Tire Pressure TPM Reset with iDrive useful for you. Good Luck! 😀
(Visited 846 times, 1 visits today)