Reset Tire Pressure Light on BMW X6 F16 xDrive35i / 50i with iDrive – BMW reportedly will launch a luxury car with a new series which is X6 xDrive 35i and xDrive 50i, besides the beautiful cars offer considerable advantages to attract consumers, for example, BMW's focus to make the look more sporty and spunky. This is the type of car BMW X6 SUV specifications of the latest generation with larger dimensions and more powerful than the previous generation.
This car is also very comfortable to drive, and rear trunk is also very wide so as to provide greater leg room for passengers in the rear, the car is also very strong to climb as any. Not only that, the BMW X6 xDrive uses a six-cylinder petrol engine, six-cylinder diesel engine and a V8 gasoline engine, so fuel efficient. BMW X6 xDrive also equipped with Active Steering and Adaptive Drive as well as dampers and roll stabilization works electrically.
Reset Tire Pressure Light on BMW X6 F16 xDrive35i / 50i with iDrive:
If you receive a low-tire pressure monitor (TPM) warning light while driving and you want to clear or turning off the warning light on your 2014 2015 2016 BMW X6 F16 xDrive35i / 50i, follow these instructions:
Make sure the vehicle is at a complete stop
Adjust the tire inflation pressure recommended on the tire placard located on the door panel.
Turn the ignition to ON without starting the engine
Press MENU button on iDrive controller to use i menu.
Select VEHICLE INFO
Select VEHICLE STATUS
Next, Start the engine (do not drive away)
Select RESET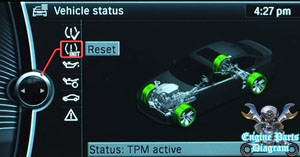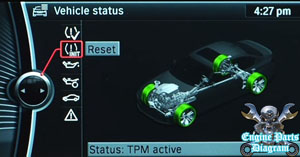 Confirm reset the inflation pressure by selecting "PERFORM RESET"
Driving for a few miles (kilometers) and then verify that it turns off.
For more details, please watch the following video:
The procedure above can be applied to latest generations of BMW X6 F16 (2014 2015 2016) models. Hopefully the article of Reset Tire Pressure Light on BMW X6 F16 xDrive35i / 50i with iDrive useful for you. Good Luck! 😀
(Visited 641 times, 1 visits today)