Reset Tire Pressure TPM Light on BMW X3 (F25) with iDrive – The BMW X3 (internal designation: F25) is a compact SUV of the German car manufacturer BMW and the successor to the first X3 (E83). Began the launch in Germany On November 20 of 2010. Produces the F25 in the US plant of BMW US Manufacturing Company in Greer (South Carolina). Latest X3 comes with a design language that is typical for a medium-size SUV segment.
Talk about the details, the BMW X3 is the latest vehicle that is visually more explicit by the presence of the latest features twin circular headlights complete with LED elements, kidney grille is more prominently, front bumper and rear, as well as exterior mirrors with turn signal integrated emphasized distinctive design of BMW X series. The Latest X3 is available in two engines, diesel and petrol.
How to Reset Tire Pressure TPM Light on BMW X3 (F25) with iDrive:
If you receive a low-tire pressure monitor (TPM) warning light while driving and you want to clear or turning off the warning light on your 2014 2015 2016 BMW X3 (F25) xDrive28i / 28d / 35i, follow these instructions:
Make sure the vehicle is at a complete stop
Adjust the tire inflation pressure recommended on the tire placard located on the door panel.
Turn the ignition to ON without starting the engine
Press MENU button on iDrive controller to use i menu.
Select VEHICLE INFO
Select VEHICLE STATUS
Next, Start the engine (do not drive away)
Select RESET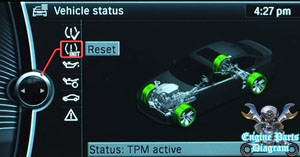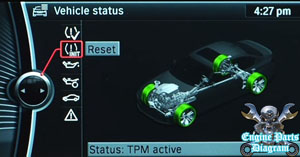 Confirm reset the inflation pressure by selecting "PERFORM RESET"
Driving for a few miles (kilometers) and then verify that it turns off.
For more details, please watch the following video:
The procedure above can be applied to latest generations of BMW X Series (2014 2015 2016) models. Hopefully the article of Reset Tire Pressure TPM Light on BMW X3 (F25) with iDrive useful for you. Good Luck! 😀
(Visited 4,426 times, 4 visits today)