Reset Low Tire Pressure Sensor TPMS Light on 2015 Mazda 2 – The Mazda 2 is a small car produced by the Japanese manufacturer Mazda which debuted in the Internal Market in 2002 and the rest of the world in 2003. In the Mazda line it stands below the average Mazda 3. It was produced in three different generations, named Mazda 2 DY, respectively, Mazda 2 DE and Mazda 2 DJ. In some markets, such as Japan and Asia it is sold under the name From the old, ie Mazda Demio.
Advance by Hazumi concept car unveiled at the 2014 Geneva Motor Show, the new version differs significantly from the previous year. As regards the outward appearance, increase the size (slightly longer) and is adopted also for the band B form the so-called Kodo Design already adopted on larger cars by the Japanese, with the result of an aggressive and coherent front to family look of other Mazda in production. For the interior, the Japanese company has opted for a visible level increase compared to the previous version, by inserting a number of standard equipment and choosing a look at the same time simple, but looking carefully chosen: the Exceed versions, top of the range, they are further refined with leather inserts on the dashboard and, on request, on the seats.
How to Reset Low Tire Pressure Sensor TPMS Light on Mazda2:
To turning off the Tire Pressure Monitoring System (TPMS) light on your 2015 2016 Mazda 2, follow these steps:
Stop the vehicle in a safe place and turn the engine switch off and engage the parking brake.
Let the tires cool, then adjust the tire inflation pressure recommended on the tire placard located on the door panel.
Turn the engine switch to the "ON" position
Locate and press the tire pressure warning reset button until the tire pressure warning light blinks 2 times and a beep sound is heard once.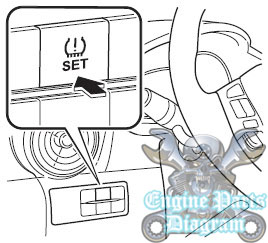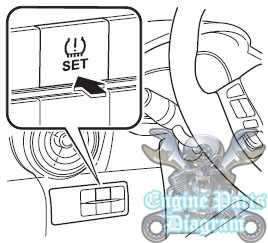 Wait for a few minutes with the engine switch in the "ON" position
Finally turn the engine switch to the "ACC" or "LOCK" position.
For more details please check the following video:
The procedure above can be applied to the latest generations of Mazda2 (2015 2016 2017) models, which is equipped with a Tire Pressure Monitoring System (TPMS). Hopefully the article of Reset Low Tire Pressure Sensor TPMS Light on 2015 Mazda 2 useful for you.
(Visited 2,816 times, 1 visits today)