Reset Guide: Chevrolet Colorado Oil Change Light (2004-2022)
Hello and welcome to the day. Start the day off right with a bang! Today we're working on Chevrolet Colorado, and we want to reset the oil change light on this car. We just did an oil change, and the light still stays on, so it needs to be reset. So I think this process is from 2004 to maybe 2022.
By the way, I've changed the engine oil with the full synthetic oil, and it's a way that you can do it by saving some money. Not only does it save you money, but it saves you time because this oil is suitable for a year or 15,000 miles. So let's dive right in.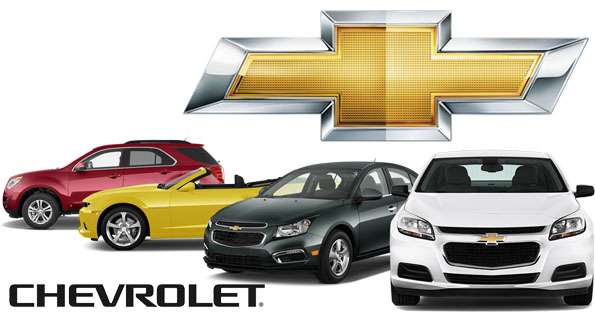 Reset Guide: Chevrolet Colorado Oil Change Light (2004-2022)
Warning! Please note your vehicle model. This tutorial will hold true for the first and second generations of the Chevrolet Colorado (2004 2005 2006 2007 2008 2009 2010 2011 2012 2013 2014 2015 2016 2017 2018 2019 2020 2021 2022 model years).
2004-2012 Colorado
With Gas Pedal
This is the fastest method and can be applied to most Chevy cars from old to newer models. So here's what we're gonna do:
First, turn the key to the on position where the motors not running 
Then go ahead and tap your GAS pedal three times
After that, turn the ignition off and turn it back on and it should read one hundred percent
With Dash Button
First, turn the ignition on but do not start a car
Then use the button on the dash to go to where it says OIL LIFE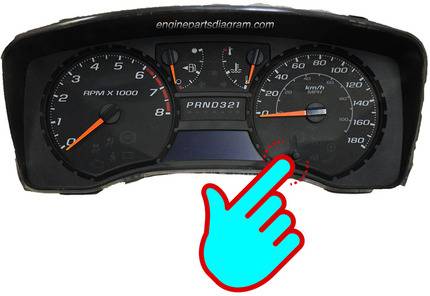 To reset it you just need to hold it down and you're ready to go
2015-2022 Colorado
With Base Level Screen
Time needed: 3 minutes.
After you've changed the oil, it's essential to reset the system. We will be using the buttons on the left stalk, the SET/CLR button, the scroller and the MENU button. So here's how I did it.
Turn the key on

It's very easy, you can do it with the engine running or not running

Highlight the VEHICLE tab

Then what you want to do is you want to get to the vehicle menu. To get that you can hit this MENU button on the turn signal lever till we're at the VEHICLE tab menu


Find the OIL LIFE

Next, you want to scroll up or down is going to be this right here on the same turn signal lever and you'll find the OIL LIFE

Press the SET/CLR button

After that, want to press the SET/CLR button on the end of the stalk

Select YES

From there, you'll go up to YES and press that SET/CLR button again and it'll put it back to a hundred percent
With Middle Level Screen
Then we're going to press the left arrow here to get into the main menu 
Next, we're going to go up to INFO and hit ✓ button to select it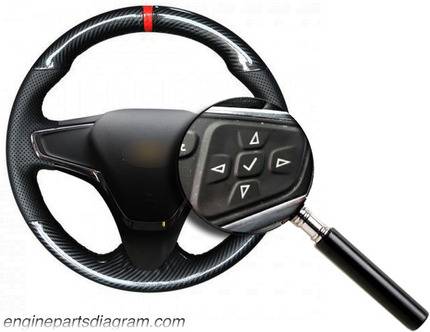 From this menu, we're going to scroll down until we see OIL LIFE
Now we're going to press and hold this ✓ check mark button and there you go so now we're back to 100%
With Up Level Screen
To begin, turn the ignition switch to the on position, but we won't be starting the car
After then, use the directional pad to go right or left until you reach the i icon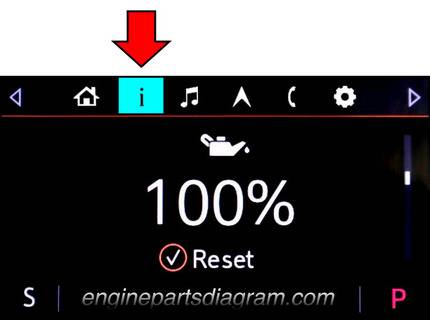 To see what it says, scroll down or up and you'll see OIL LIFE
To reset it you simply press the ✓ check button until you see 100%
So there you have it. If you guys have any questions about the oil reset process that we did here or the procedure of buying the oil while saving some money, definitely shoot them in the comment section down below. Thanks for reading, and have a nice day.