2010-2021 Lexus GX 460 Maintenance Required Light Reset Guide
The Lexus GX is an SUV manufactured by Lexus since 2002 and mainly distributed in North America and Russia. On this occasion, I will try to explain to you how to reset the maintenance required light on the second generation of Lexus GX 460.
Today I turned on my car, and I get this on my diagnostic screen; it says maintenance required, which means it's time for me to change the engine oil. So I already changed my oil go according to what Lexus recommends. I actually change it every thousand miles instead of 7,500 or 10,000 or whatever they prescribe; by using photosynthetic, I change mine at 5,000, so I always got to reset these things.
Lexus GX 460 Maintenance Required Light Reset Guide
These instructions are based on the Lexus GX owner's manual. This procedure applies to the second generation of the Lexus GX (2010, 2011, 2012, 2013, 2014, 2015, 2016, 2017, 2018, 2019, 2020, 2021 model years).
For 2010-2019
Time needed: 3 minutes.
All right, this chapter is about resetting the maintenance required light on a 2011 Lexus GX460, and the instructions are on page number 617 of your user's manual. Okay, so this is how you do it once you get this light and you already did your oil change:
Turn on your car without starting the engine

With the foot off the brake pedal, push your start button two times

Make sure your odometer is on TRIP A

How you do that you're going to have to press your ODO/TRIP button on the instrument panel. Just keep pushing it until it gets to TRIP A. The Trip A is the only way it will work


Turn off your car

I'm going to go ahead and turn off my car right now

Hold down the ODO/TRIP button and turn on your car again

Hold the Trip button down and keep the foot off the brake pedal then we're going to be in ignition mode. Just push your start button two times

Keep press the button until the resetting maintenance data is complete

Done!
For 2020-2021
So this tutorial is for a brand new 2020 Lexus GX and i'm going to show you how to reset oil maintenance required light. Here's how to do it:
Turn on the car without starting by pressing the Start button twice
Use the navigation button on the steering wheel to scroll over onto the ⚙️ settings menu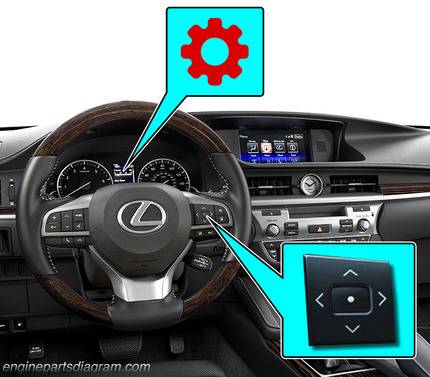 Scroll down to VEHICLE SETTINGS and then press the center button to select it
Select SCHEDULE MAINTENANCE or OIL MAINTENANCE
When Reset Data? appears, select YES to execute the maintenance reset
And also, as I tell you guys, you know you're welcome to send me messages. I do respond to everybody. I try to help you guys all out that way you don't have to go to the mechanic and spend a bunch of money on a Diagnostics and what not see doing like this you know they will charge you money just to reset the light there when you can just easily do it at your house. Thank you for reading, and have a great day.