Lamborghini Gallardo Engine Head Timing System Part Assembly
Last Updated on February 15, 2020 by Christ
Lamborghini Gallardo Engine Head Timing System Part Assembly – The Lamborghini Gallardo is a high-performance car produced by the Italian car manufacturer Lamborghini from 2003 to 2013. It derives from the Lamborghini L140 (the eighties) and Lamborghini Calà (the L140 redesigned in the nineties by Giugiaro), which remain only prototypes. At the time of the debut was positioned under the top car: the Lamborghini Murciélago.
The name of the car, which is pronounced "Gaijàrdo", derives from one of the five bull races present in Spain, for most of the names given to cars in Bologna are connected to the world of the Corridor. The Gallardo engine is the Lamborghini V10; the power delivered by this engine is 500 hp (367 kW) subsequently brought to 520 hp (with the introduction of the Gallardo Spyder) while the driving torque reaches 510 Nm.
Lamborghini Gallardo Engine Head Timing System Part Assembly: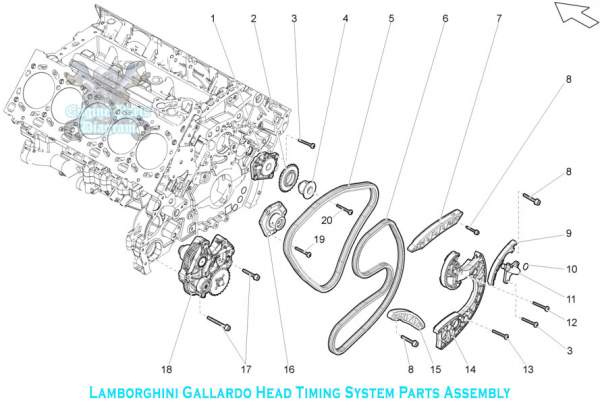 Support
Gear
Screw
Right Support
Chain
Chain
Shoe
Journal
Guide
O-Ring
Chain Tightener
Screw
Screw
Guide
Shoe
Left Support
Screw
Support
Screw
Screw
The V10 is a 10-cylinder V-shaped engine. The cylinders are arranged on two banks, made up of five cylinders each, angled between them. The V10 configuration itself is not balanced. In a motion, vibrations are generated on the vertical plane which affects the whole length of the engine. It is therefore essential to insert a countershaft which balances the engine thus reducing vibrations. To reduce the vibrations, both vertical and horizontal, the best bank angle with which to make these motors is 72 °.
This diagram is based on the Lamborghini workshop manual. This diagram applies to 2003 2004 2005 2006 2007 2008 2009 2010 2011 2012 2013 Lamborghini Gallardo. Hopefully the article of Lamborghini Gallardo Engine Head Timing System Part Assembly useful for you.
(Visited 159 times, 1 visits today)