How to Reset Low Tire Pressure TPMS Light on Toyota FJ Cruiser – Toyota FJ Cruiser is a retro style shaped SUV. It was unveiled at the Chicago Auto Show as a concept in 2003, but sales revenue was to wait until 2006. FJ Cruiser is crafted of old 60's Toyota Land Cruiser FJ's style, and it is based on the Toyota Hilux platform, which is also used Toyota 4Runner and Toyota Land Cruiser. FJ Cruiser is aimed to compete with the Nissan Xterra, Jeep Wrangler and the Honda Element with the same class.
In contrast to other Toyota models while on is not Toyota, but Toyota brand-text of the 60's style (though this is used later in the first generation 4Runner models and fourth generation Hiace models.). FJ Cruiser there is a rear drive, as well as the four-wheel drive models, and transmission choices are 6-speed manual and 5-speed automatic transmission. FJ Cruiser accessory range includes a wheel transportation roof railings, frontal, skirt covers, spare tire cover, tow hook, GPS system, power piping, special wheel bolts (the bolts can be opened only with your own key), satellite radio and R3200 plus anti- theft feature.
How to Reset Low Tire Pressure TPMS Light on 2014 Toyota FJ Cruiser:
If you replaced a wheel, tire, TPMS sensor etc. and are now getting a warning light on your car, then the sensor need to be reset. To reset the Tire Pressure Monitoring System (TPMS) light on your 2012 2013 2014 2015 2016 Toyota FJ Cruiser, follow these steps:
Stop the vehicle in a safe place and turn the engine switch off and engage the parking brake.
Adjust the tire inflation pressure recommended on the tire placard located on the door panel.
Turn the engine switch to the "ON" position
See below the steering wheel, locate and press the tire pressure warning reset button until the tire pressure warning light blinks 3 times.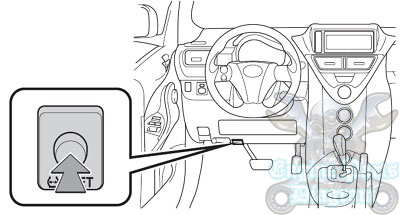 Wait for a few minutes with the engine switch in the "ON" position
Finally turn the engine switch to the "ACC" or "LOCK" position.
For more details please check the following video:
The procedure above can be applied to the latest generations of Toyota FJ Cruiser (2012 2013 2014 2015 2016) model years, which is equipped with a Tire Pressure Monitoring System (TPMS). Hopefully the article of Reset Tire Pressure Light on 2005-2015 Toyota Corolla useful for you.
(Visited 5,393 times, 2 visits today)