BMW 3 Series 320i 328i 340i Tire Pressure Monitor (TPM) Reset – The BMW F30 is the sixth generation of the 3 Series belonging to the segment of compact executive cars. Its launch was held on October 14, 2011 in Munich, Germany, where production began on October 28 for release on February 11, 2012. Also be a touring version, called F31 will be available from the third quarter of 2012. During the 2012 Summer Olympics the BMW 320d Efficient Dynamics was the vehicle most used given the official sponsorship of BMW.
New to the US market in 2012, it is the introduction of a 4-cylinder BMW 3 Series which was not from the 318i model of the nineties. To equip the engines of the 3 Series, BMW used to 328i and 320i versions the 2-liter turbocharged inline 4-cylinder N20, reaching an output of 184 hp (320i) and 245 hp (328i) respectively. For version 335i continued using the same line six-cylinder used in the E90 and other brand vehicles, the N55, which reaches 306 hp. The 2-liter 4-cylinder N47 is optimized for new models used in the diesel versions.
BMW 3 Series F30 320i 328i 340i 335i Tire Pressure (TPM) Reset:
If you receive a low-tire pressure monitor (TPM) warning light while driving and you want to clear or turning off the warning light on your 2011 2012 2013 2014 2015 2016 BMW 3 Series 320i 328i 340i, follow these instructions:
Make sure the vehicle is at a complete stop
Adjust the tire inflation pressure recommended on the tire placard located on the door panel.
Turn the ignition to ON without starting the engine
Press MENU button on iDrive controller to use i menu.
Select VEHICLE INFO
Select VEHICLE STATUS
Next, Start the engine (do not drive away)
Select RESET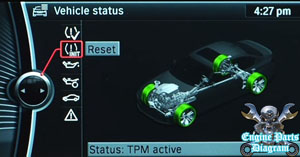 Confirm reset the inflation pressure by selecting "RESET"
Driving for a few miles (kilometers) and then verify that it turns off.
For more details, please watch the following video:
The procedure above can be applied to latest generations of BMW 3 Series F30 (2011 2012 2013 2014 2015 2016) models. Hopefully the article of BMW 3 Series 320i 328i 340i Tire Pressure Monitor (TPM) Reset useful for you. Good Luck! 😀
(Visited 7,904 times, 1 visits today)