Reset Tire Pressure (TPM) Light on 2013-2016 BMW X5 (F15) – The BMW F15 is a sport utility vehicle of the German automaker BMW. He is the third generation of the BMW X5 and the BMW E70 thus successor. The model was presented to the public on May 30, 2013, and was made available for the first time at the IAA-2013.  The BMW F15 is, like its predecessor, the BMW E70, BMW US Manufacturing Company in Greer (South Carolina) manufactures. Nearly 30% of the vehicles sold in the US, 70% are exported to over 140 countries. The models X3, X4 and X6 are produced there.
The BMW X5 is equipped with BMW assistance systems. Inside, the display of the multimedia system is free standing in a central position. The iDrive system has been revised and also supports gesture control. With the so-called. Driving experience switch, different driving modes can be adjusted, affecting in particular the gas supply, the circuit and the steering. With the optional adaptive chassis (including Adaptive Drive roll stabilization) can be set the dampers via the Driving Experience Control switch.
How to Reset Tire Pressure (TPM) Light on 2013-2016 BMW X5 (F15):
If you receive a low-tire pressure monitor (TPM) warning light while driving and you want to clear or turning off the warning light on your 2013 2014 2015 2016 BMW X5 (F15), follow these instructions:
Make sure the vehicle is at a complete stop
Adjust the tire inflation pressure recommended on the tire placard located on the door panel.
Turn the ignition to ON without starting the engine
Press MENU button on iDrive controller to use i menu.
Select VEHICLE INFO
Select VEHICLE STATUS
Next, Start the engine (do not drive away)
Select RESET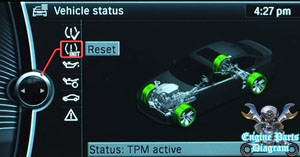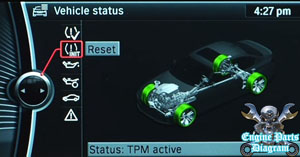 Confirm reset the inflation pressure by selecting "RESET"
Driving for a few miles (kilometers) and then verify that it turns off.
For more details, please watch the following video:
The procedure above can be applied to latest generations of BMW X5 (F15) (2013 2014 2015 2016) models. Hopefully the article of Reset Tire Pressure (TPM) Light on 2013-2016 BMW X5 (F15) useful for you. Good Luck! 😀
(Visited 3,687 times, 1 visits today)