2016 Lexus NX 200t Engine Compartment Parts Diagram
Last Updated on December 4, 2019 by Christ
2016 Lexus NX200t Engine Compartment Parts Diagram – Entering a new segment for Lexus, is a challenge. However Lexus engineers and designers managed to create a vehicle with compact dimensions as well as the comfort of sophisticated features. Lexus NX created to complete the segment 'SUV in the Lexus that had previously been available RX and LX.
With the concept of "Premium Urban Sport Gear", Lexus NX is equipped with advanced features and leading in its class to provide ease and comfort and safety for driver and passengers. Lexus was able to translate a compact dimension into an SUV that is agile, performance adequate, efficient and have a high utility, thereby providing driving pleasure. Lexus gives variant Luxury and F-Sport on NX200t.
2016 Lexus NX 200t Engine Compartment Parts Diagram: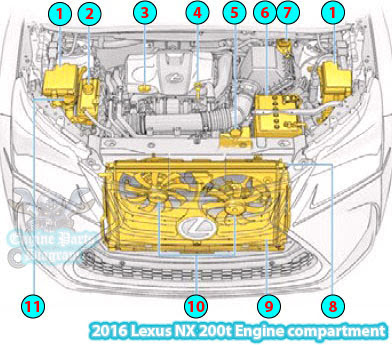 Fuse box
Engine coolant reservoir
Engine oil filler cap
Engine oil level dipstick
Intercooler coolant reservoir
Battery
Brake fluid reservoir
Radiator
Condenser
Electric cooling fans
Washer fluid tank
This tutorial is based on the Lexus owner's manual. Hopefully the article of 2016 Lexus NX-200t Engine Compartment Parts Diagram useful for you.