2014-2016 BMW X4 xDrive 28i / 35i Tire Pressure Light Reset – When BMW X4 (F26) is a crossover SUV, BMW calls this type of vehicle as SAC (Sports Activity Coupe). The concept model of the middle class vehicle, which is already very similar to the later production model, celebrated in 2013 the Shanghai Auto Show debut. The BMW X4 expands the X-series and is the bigger brother, the BMW X6, the second SUV coupe from the manufacturer.
The new BMW X4 platform shared with the BMW X3, but the design of the coupe-SUV is only slightly ajar to the X3. The front resembles this though, but the headlights and the kidneys are different, the larger air intakes much ensure that the entire front unit broader and sportier looks. Visually, the X4 borders but above all by the bipartite beading and the L-shaped LED backup lights from the X3. Compared to the X4 X3 acts sportier and more dynamic, one reason probably is that the body has been lowered by 36 millimeters and extended by 14 millimeters.
2014-2016 BMW X4 (F26) xDrive 28i / 35i Tire Pressure Light Reset:
If you receive a low-tire pressure monitor (TPM) warning light while driving and you want to clear or turning off the warning light on your 2014 2015 2016 BMW X4 xDrive 28i / 35i, follow these instructions:
Make sure the vehicle is at a complete stop
Adjust the tire inflation pressure recommended on the tire placard located on the door panel.
Turn the ignition to ON without starting the engine
Press MENU button on iDrive controller to use i menu.
Select VEHICLE INFO
Select VEHICLE STATUS
Next, Start the engine (do not drive away)
Select RESET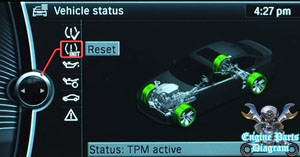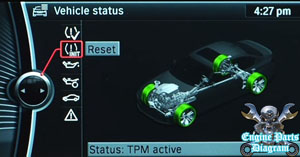 Confirm reset the inflation pressure by selecting "PERFORM RESET"
Driving for a few miles (kilometers) and then verify that it turns off.
For more details, please watch the following video:
The procedure above can be applied to latest generations of BMW X Series F26 (2014 2015 2016) models. Hopefully the article of 2014-2016 BMW X4 xDrive 28i / 35i Tire Pressure Light Reset useful for you. Good Luck! 😀
(Visited 747 times, 1 visits today)