How to Reset Tire Pressure TPM Light on BMW X1 xDrive28i – BMW will launch the 'BMW X1 in 2016 with new models a fresh new look, BMW will produce two models, but BMW the first to be released is the BMW X1 SUV. BMW X1 include a sports car with the comfort when driving and Eco Pro mode of driving. The design of the latest BMW is designed with a two-tier dashboard including long car kind of car that is usually made by BMW.
There are new features included in the 2016 BMW X1 include a head-up display located on the dashboard, and even more remarkable is that it can project the important information about the state of the car through the windshield of the driver. BMW X1 has safety features which consist of an active control system to stop the car in a sudden situation well, Lane Departure Warning, Traffic clock Assistant, a collision warning and alert functions Braking city.
How to Reset Tire Pressure TPM Light on 2013-2016 BMW X1 xDrive28i:
If you receive a low-tire pressure monitor (TPM) warning light while driving and you want to clear or turning off the warning light on your 2013 2014 2015 2016 BMW X1 xDrive28i, follow these instructions:
Make sure the vehicle is at a complete stop
Adjust the tire inflation pressure recommended on the tire placard located on the door panel.
Turn the ignition to ON without starting the engine
Press MENU button on iDrive controller to use i menu.
Select VEHICLE INFO
Select VEHICLE STATUS
Next, Start the engine (do not drive away)
Select RESET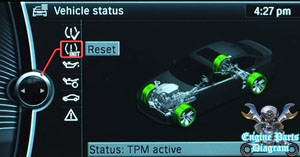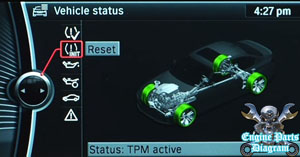 Confirm reset the inflation pressure by selecting "PERFORM RESET"
Driving for a few miles (kilometers) and then verify that it turns off.
For more details, please watch the following video:
The procedure above can be applied to latest generations of BMW X1 xDrive28i (2013 2014 2015 2016) models. Hopefully the article of How to Reset Tire Pressure TPM Light on BMW X1 xDrive28i useful for you. Good Luck! 😀
(Visited 3,568 times, 3 visits today)