2010 Chevrolet Camaro Front Suspension Parts Diagram
Last Updated on January 10, 2020 by Christ
2010 Chevrolet Camaro Front Suspension Parts Diagram – The fifth-generation Chevrolet Camaro was a typical representative of so-called muscle cars and produced by American automaker Chevrolet, from March 16, 2009, until November 27, 2015. The model was a huge commercial success and exceeded sales in its main rival, the Ford Mustang. Also, with the launch in April 2009 as a 2010 model, revived the historic name of the Camaro after a hiatus of seven years, as the production of fourth-generation predecessor Chevrolet Camaro had expired in August 2002. He was replaced in May 2015 by the sixth-generation Chevrolet Camaro.
The fifth-generation Camaro comes in 5 trim levels: LS, 1LT, 2LT, 1SS, and 2SS. LS and LT levels combined only with the engine of 3.6 liters, while the 6.2-liter models exclusively for SS. The top trim 2LT and 2SS brought Bluetooth technology, heated leather seats, leather steering wheel, etc. Since the introduction of the Camaro season of 2011, which came into operation on June 7, 2010, the model began to offer a head-up display on the windshield, similar to the Chevrolet Corvette. Also, at the start of the 2012 season, the optional rearview camera appeared as a 45th Anniversary package on the anniversary of 45 years since the debut of the first-generation Camaro.
2010-2015 Chevrolet Camaro Front Suspension Parts Diagram: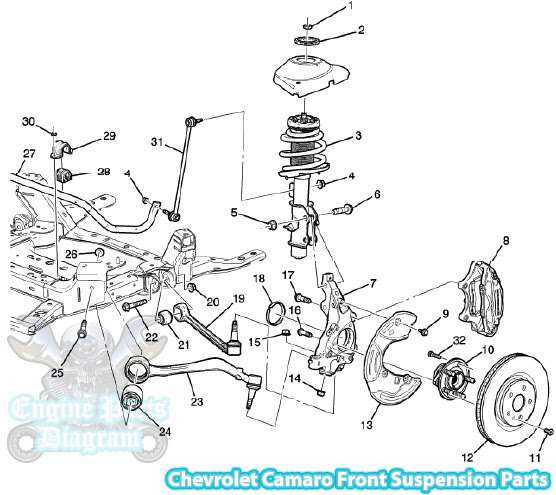 Nut
Plate
Strut
Nut
Nut
Bolt
Knuckle
Front Brake Caliper
Bolt
Hub
Screw
Rotor
Shield
Nut
Nut
Bolt Front Wheel Hub
Bolt, Front Brake Caliper
Shield
Lower Arm
Nut
Bushing
Bolt
Arm
Bushing,
Bolt
Nut
Stabilizer Shaft Link
Bushing, Stabilizer Shaft Link
Clamp
Nut, Prevailing Torque Tension
Stabilizer Link Assembly
Stud
This diagram is based on the Chevrolet workshop manual. Hopefully the article of 2010 Chevrolet Camaro Front Suspension Parts Diagram useful for you.
(Visited 789 times, 2 visits today)