2010-2016 MINI Cooper Countryman Tire Pressure Monitor Reset – British car manufacturer MINI, reportedly preparing a new generation MINI Countryman. Cars are mentioned going to hit the market in the last quarter of 2016 was strong with the original character of the Sport Utility Vehicle (SUV). The brand-new Countryman uses design styles such as the MINI All4 X-Raid Dakar. Because of that, a source at BMW dare to say that the brand new generation of the Countryman was really SUV.
However, to maintain the consistency of the size of a compact car, the MINI will ensure the car has a body length of 4.25 meters (m). Width 10 millimeters wider than the current generation. The trunk is greater than the trunk of the model that is currently being marketed are of 450 liters. Likewise with the legs are designed bigger and higher to affirm the character of the SUV. Like the previous MINI models, the MINI Countryman using the latest FWS UKL platform. The diesel engine capacity of 1,500 cc three-cylinder engine derived from the MINI Cooper D.
2010-2016 MINI Cooper Countryman Tire Pressure Monitor Reset:
If you receive a low-tire pressure monitoring system (TPMS) warning light while driving and you want to clear or turning off the warning light on your 2010 2011 2012 2013 2014 2015 2016 MINI Cooper Countryman, follow these instructions:
Make sure the vehicle is at a complete stop
Adjust the tire inflation pressure recommended on the tire placard located on the door panel.
Turn ignition to ON
Press the BC button in the turn indicator lever repeatedly until you see the SET/INFO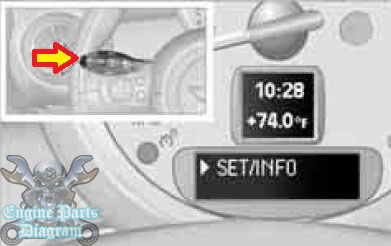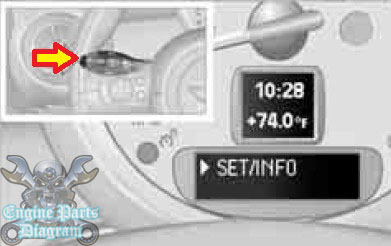 Press and hold the button until the display changes.
Press the BC button repeatedly until you see the RESET
Press and hold the button until "RESETTING" is displayed.
Driving for a few miles (kilometers) and then verify that it turns off.
For more details, please watch the following video:
The procedure above can be applied to latest generations of MINI Cooper Countryman (2009 2010 2011 2012 2013 2014 2015 2016) models. Hopefully the article of 2010-2016 MINI Cooper Countryman Tire Pressure Monitor Reset useful for you. Good Luck! 😀
(Visited 11,471 times, 10 visits today)