Reset Tire Pressure Light on 2011-2015 MINI Cooper Coupe – MINI Coupe and MINI Roadster comes with the concept of a unique body and interior as the first MINI with two passengers, was built with a touch of premium all-round, both in terms of design, quality, features, and personal touches owners. Both have a strong allure for MINI fans. MINI Coupe is the most brand new models two passengers in the MINI line-up which suffered total development to provide driving pleasure.
First, the two-passenger models with a new twist in the history of MINI. Secondly, this model is also a mainstay for the super-compact sports car segment. Choice of engines, chassis, load distribution, as well as the aerodynamics on the MINI Coupe are all focused on creating optimum performance. As a result, the new car radiates all the advantages of the MINI brand includes driving a go-kart fun, and scored the highest performance ever recorded by other MINI models.
How to Reset Tire Pressure Light on 2011-2015 MINI Cooper Coupe:
If you receive a low-tire pressure monitoring system (TPMS) warning light while driving and you want to clear or turning off the warning light on your 2011 2012 2013 2014 2015 MINI Coupe, follow these instructions:
Make sure the vehicle is at a complete stop
Adjust the tire inflation pressure recommended on the tire placard located on the door panel.
Turn ignition to ON
Press the BC button in the turn indicator lever repeatedly until you see the SET/INFO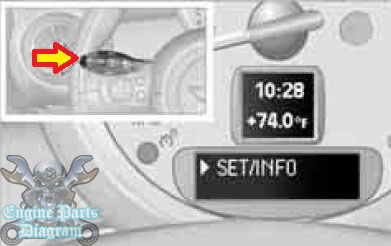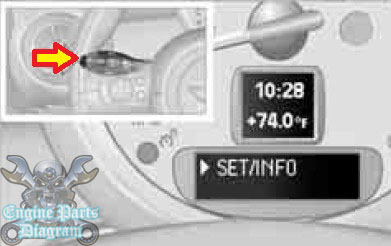 Press and hold the button until the display changes.
Press the BC button repeatedly until you see the RESET
Press and hold the button until "RESETTING" is displayed.
Driving for a few miles (kilometers) and then verify that it turns off.
For more details, please watch the following video:
The procedure above can be applied to latest generations of MINI Coupe (2011 2012 2013 2014 2015) models. Hopefully the article of Reset Tire Pressure Light on 2011-2015 MINI Cooper Coupe useful for you. Good Luck! 😀
(Visited 3,870 times, 4 visits today)