2009-2016 Mini Clubman Tire Pressure System TPMS Light Reset – MINI Cooper car is very popular in the UK with the concept of a small car that is practical to use for daily activities. MINI small engine so fuel efficient. MINI launches its latest line up in cyberspace MINI Clubman is planned to be marketed in 2016. MINI Clubman is a station wagon type of the MINI Cooper. MINI is starting to change the image into a premium compact cars.
Latest Mini Clubman are a lot of changes. On the roof are extended and elevated. In the interior of the MINI Cooper usually featuring a rounded shape throughout the cabin, but the MINI Clubman is more varied with the formation of the box on the AC grid. The latest version of the MINI Clubman has the dimensions of length 4223 mm, width 1,844 mm, height 1,450 mm. The latest generation Clubman is longer 262 mm, width 161 mm, and 25 mm higher than the previous generation.
2009-2016 Mini Clubman Tire Pressure System TPMS Light Reset:
If you receive a low-tire pressure monitoring system (TPMS) warning light while driving and you want to clear or turning off the warning light on your 2009 2010 2011 2012 2013 2014 2015 2016 Mini Clubman, follow these instructions:
Make sure the vehicle is at a complete stop
Adjust the tire inflation pressure recommended on the tire placard located on the door panel.
Turn ignition to ON
Press the BC button in the turn indicator lever repeatedly until you see the SET/INFO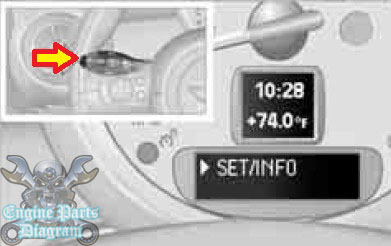 Press and hold the button until the display changes.
Press the BC button repeatedly until you see the RESET
Press and hold the button until "RESETTING" is displayed.
Driving for a few miles (kilometers) and then verify that it turns off.
For more details, please watch the following video:
The procedure above can be applied to latest generations of Mini Clubman (2009 2010 2011 2012 2013 2014 2015 2016) models. Hopefully the article of 2009-2016 Mini Clubman Tire Pressure System TPMS Light Reset useful for you. Good Luck! 😀
(Visited 1,114 times, 1 visits today)