2007-2013 Acura MDX Timing Marks Diagram (3.7L J37 Engine)
Last Updated on February 9, 2020 by Christ
2007-2013 Acura MDX Timing Marks Diagram (3.7L J37 Engine) – The Acura MDX is the first SUV from the automaker Acura and makes replacement galley in 4X4 SLX disappeared in 1999. With the MDX, Acura has managed a grand entrance in the luxury SUV segment and enabled the brand to increase its sales in the North American market. Appeared in late 2000, the first MDX surfed on the success of its main competitor, the Lexus RX's first name.
Unlike most other Acura, the MDX is not a Honda rebadgée because it does not borrow its base to another model and has a style all his own. In 2003, a slight restyling was operated and that's under the hood there's the big change: an increase in power. The same year, the MDX is now sold in Japan under the Honda brand. The second generation of the MDX appeared in 2006. Slightly longer and wider than its predecessor, it adopts a more successful design than the first generation. It is now covered with chrome strips around windows and door handles in 2010. The MDX was restyled in late 2009.
2007-2013 Acura MDX Timing Marks Diagram (3.7L J37 Engine)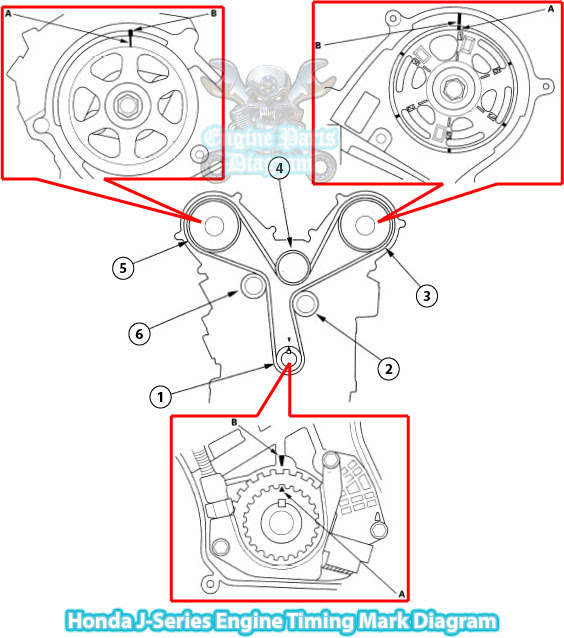 Drive Pulley
Idler Pulley
Front Camshaft Pulley
Water Pump Pulley
Rear Camshaft Pulley
Adjusting Pulley
Note: Set the camshaft and crankshaft pulleys to TDC by aligning the TDC marks (A) on the camshaft pulleys with the pointers (B) on the back covers. For more details please watch the following video:
This diagram is based on the Acura workshop manual. This diagram applies to Acura MDX 2007 2008 2009 2010 2011 2012 2013 year models that use 3.7 L J37 Engine. This engine is also applied to 2009-2012 Acura RL, 2009-2014 Acura TL SH-AWD, 2010-2013 Acura ZDX. Hopefully the article of 2007-2013 Acura MDX Timing Marks Diagram (3.7L J37 Engine) useful for you.
(Visited 1,949 times, 2 visits today)