2006-2011 Mercedes-Benz ML350 M272 Engine Timing Marks
2006-2011 Mercedes-Benz ML350 M272 Engine Timing Marks – The W164 is the name of a Mercedes-Benz SUV luxury car from 2005 to 2011 and constitutes the second series of the so-called M-Class. The new Mercedes-Benz SUV large size was presented at the Detroit Motor Show in January 2005. Compared to the model that was going to replace, the M-Class W164 first appeared more modern, thanks to the obvious game of edges and curves that could be seen virtually everywhere, observing the car body, all in contrast to the rounded shapes of the previous W163 series.
Overall, the car is wider, longer and higher than the old M-Class. The front is first recognized by the grille, constituted by thick perforated horizontal slats, the sides of which stand out the headlights, now more angular and not more drop-shaped as before. The whole thing is underscored by a solid bumper fitted with fog. On the side, the protruding wheel arches and the edging edge stand out. A traditional element at the German House Cars was in the rear-view mirrors with integrated direction indicator.
Mercedes-Benz ML350 M272 Engine Timing Marks Diagram: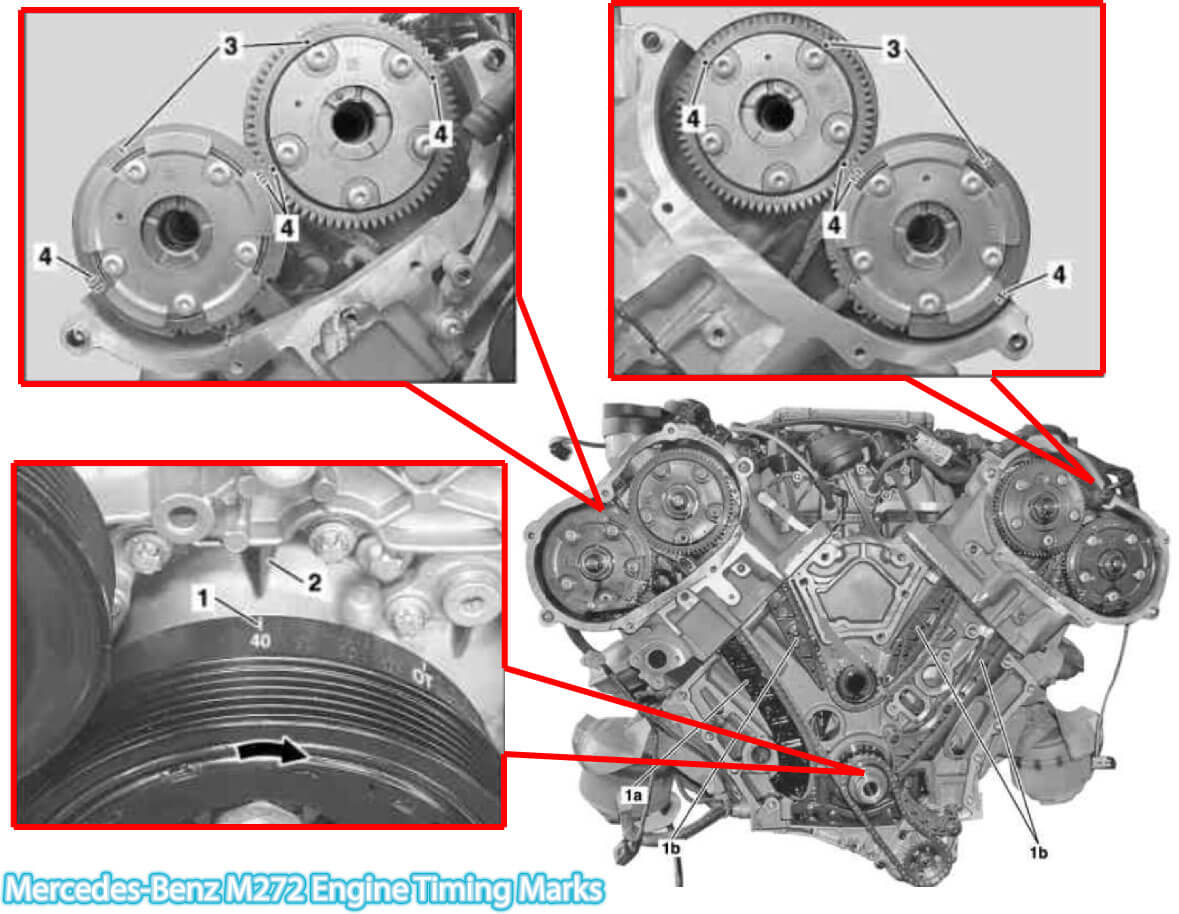 The 40º marking (1) on the belt pulley must be aligned with the positioning edge (2) on the timing case cover. The markings (3) on the camshaft adjusters face upward, and the markings (4) align with the contact surfaces on the cylinder head covers. For more details, please watch the following video:
The abbreviation Mercedes-Benz M272 indicates a family of engines produced outbreak from 2004 to 2013 by the German manufacturer Mercedes-Benz. This is a family of V6 engines that will come alongside and replace the previous V6 M112, and it is precisely on the M112 engines that the V6 M272 is based, thus creating an evolution, albeit very substantial and profound. This machine is also applied to:
2004 Mercedes-Benz SLK350
2004 Mercedes-Benz CLS350
2005 Mercedes-Benz CLK350
2013 Mercedes-Benz (C300 in 2008)
2005 Mercedes-Benz C350
2005 Mercedes-Benz E350
2005-2010 Mercedes-Benz S350
2005 Mercedes-Benz SL350
2006 Mercedes-Benz R350
2005 Mercedes-Benz Viano
2006 Mercedes-Benz Sprinter
2008 Mercedes-Benz CLC350
2008–2012 Mercedes-Benz GLK350
Hopefully, the article of 2006-2011 Mercedes-Benz ML350 M272 Engine Timing Marks useful for you. Good Luck!
(Visited 2,190 times, 1 visits today)