2003 Nissan Murano Timing Mark Diagram (3.5 L VQ35DE Engine) – The Nissan Murano is an SUV of medium size manufactured by Nissan in December 2002 and sold as a 2003 model. It was launched in Europe only since 2004 and made available in one version. The first generation of the Murano arrives in the old continent only in 2004 after experiencing a good success in the USA. The Japanese SUV was fitted with a 3.5-liter, a 245 hp V6, the same engine that drove the 350Z and other models ever marketed in Italy, but it had been properly adjusted to give their best on a car of this weight. The first generation was available the front-wheel drive as standard or all-wheel drive as optional.
Nissan deeply renews its most luxurious SUV. The second generation of the Japanese vehicle is equipped with a single engine, 6-cylinder V 3.5-liter with 265 hp already equipped the previous version but revised and corrected in many details, available in Acenta and Tekna equipment. The new Murano has a line that is aligned with the first generation, with some styling changes on the front and on the back, but the interior has been completely redesigned. In the center console is the large screen of the navigation and entertainment system. The instrument panel instead highlights the sporty character of the Murano thanks to quadrants that's attractive and aggressive.
2003–2016 Nissan Murano Timing Marks Diagram (3.5 L VQ35DE Engine):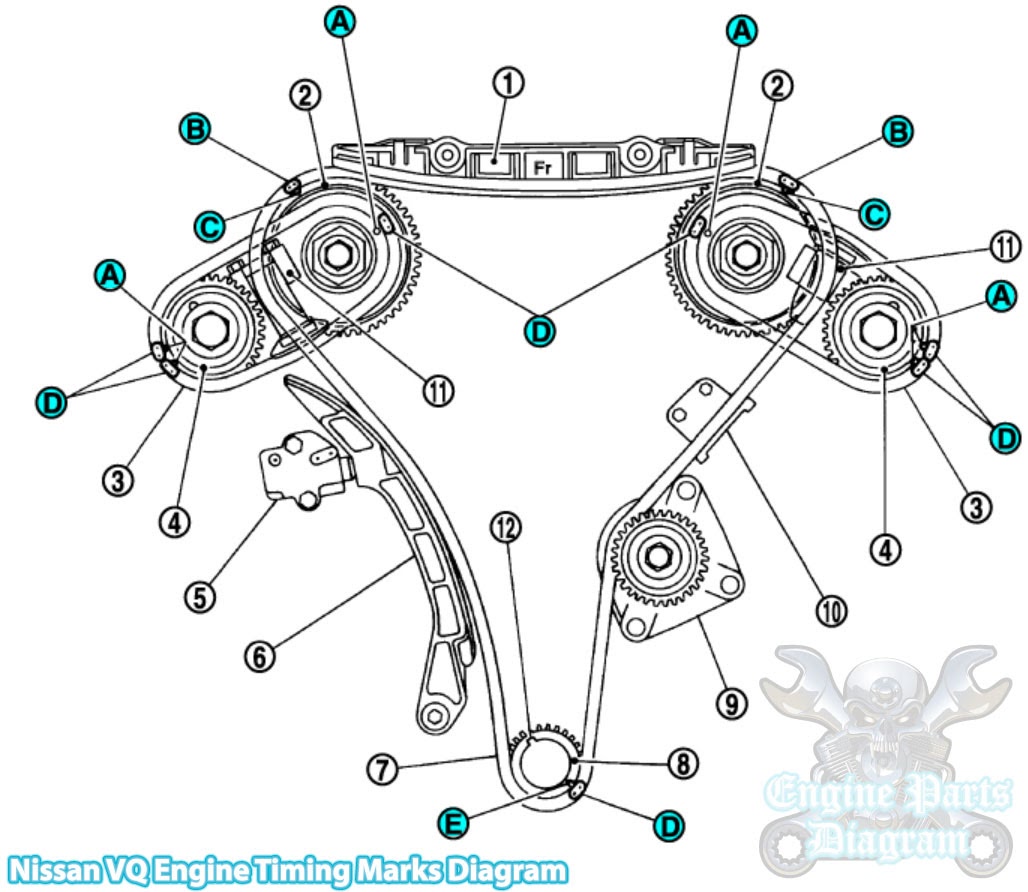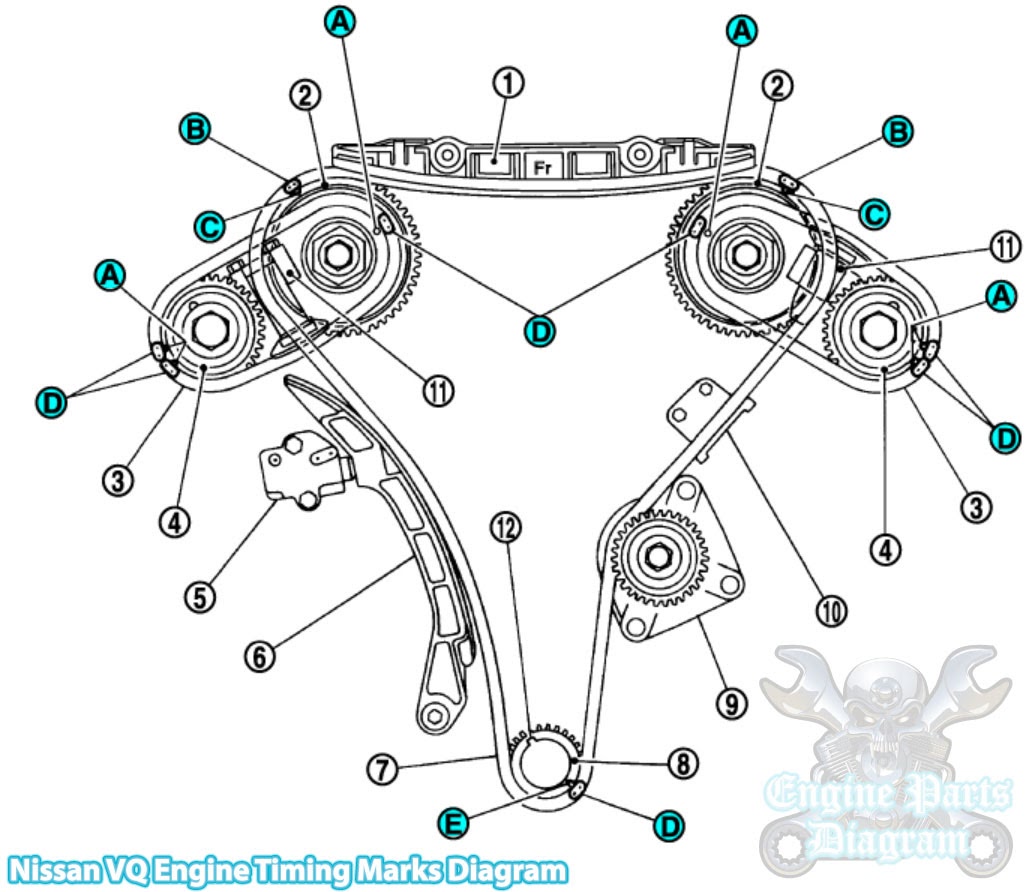 1. Internal chain guide
2. Camshaft sprocket (INT)
3. Timing chain (secondary)
4. Camshaft sprocket (EXH)
5. Timing chain tensioner (primary)
6. Slack guide
7. Timing chain (primary)
8. Crankshaft sprocket
9. Water pump
10. Tension guide
11. Timing chain tensioner (secondary)
12. Crankshaft key
A. Mating mark
B. Mating mark (pink link)
C. Mating mark (punched)
D. Mating mark (orange)
E. Mating mark (notched)
Note: The above figure shows the relationship between the mating mark on each timing chain and that on the corresponding sprocket, with the components installed. For more detail please watch the following video:
With the VQ initials means a large family of internal combustion engines manufactured since 1994 by the Japanese automaker Nissan. The VQ engines are of the high-end V6 and volumes of between 2 and 4 liters. Have equipped several models of the Japanese house with outbuildings trademarks related to it, and since the early 2000s, following the alliance of Nissan with Renault, alongside some of the top models of the French company. The VQ engine family has branched out over the years in 14 versions, which became in a short time one of the world reference points regarding the reliability and roundness and smoothness of operation.
The above diagram applies to Nissan Murano 2003 2004 2005 2006 2007 2008 2009 2010 2011 2012 2013 2014 2015 2016 2017 model years. In addition, this engine is also applied to several cars such as:
2001–2004 Infiniti QX4
2002–2004 Infiniti I35
2003–2006 Nissan 350Z
2003–2006 Infiniti G35
2003–2008 Infiniti FX35
2004–2016 Nissan Quest
2006–2008 Infiniti M35
2013–2013 Infiniti JX35
2014–2016 Infiniti QX60
Hopefully the article of 2003 Nissan Murano Timing Mark Diagram (3.5 L VQ35DE Engine) useful for you. 😀
(Visited 1,400 times, 1 visits today)