2001-2011 Ford Ranger Fuel Inertia Switch Reset Location – The Ford Ranger compact pickup is a product of Ford for the US market since 1983 and which was presented in 1998, the fourth series. The name "Ranger" had been used previously (1965-1981) to describe the more luxurious of the Ford F-Series, a series of full-size pickups, which are large in scale. The first series, it replaced the Courier, it was presented in conjunction with the Ford Bronco which used the same platform but it was available in closed, almost an SUV before its time.
While reaching a length that touched, in some versions, the 5 m long, by US standards of the time, was regarded as a compact pickup. The allocation of engines was diversified and were available engine capacities of between 2.0 and 2.9 l. The second series, available since 1989, saw the elimination of lower displacement powerplant, while it was made available a new one from the 4.0. As of the third series, presented in 1994, it is sold with few changes and in the rest of the world including Europe and also marketed by Mazda, first as a Mazda B-Series and, since 2006 as Mazda BT-50.
2001-2011 Ford Ranger Fuel Inertia Switch Reset Location:
Fuel pump shut-off (inertia) switch is  a device that stops the fuel pump of the fuel delivery to the engine. If your engine cranks but does not start, this switch may have been activated. Here's how to find and reset the switch:
On the 2001-2011 Ford Ranger, the fuel pump shut-off switch is located in the front passenger footwell area in the right upper corner. You will need to remove the lower scuff plate to access the switch. If you do not find it, try searching on the right side of the passenger footwell, behind the fuse panel door.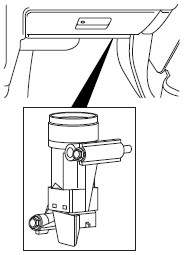 Make sure to turn off your vehicle
Pushing in the Fuel pump shut-off (inertia) switch
Turn the ignition to the on positio and wait a few seconds and return the key to off position.
For more details, please watch following video:
This procedure works on a Ford Ranger Truck 1995 2001 2003 2004 2005 2006 2007 2008 2009 2010 2011 years model. Hopefully the article of 2001-2011 Ford Ranger Fuel Inertia Switch Reset Location useful for you.
(Visited 7,985 times, 1 visits today)