1993 Daihatsu Feroza Cylinder Block Parts Assembly Diagram
Last Updated on February 14, 2020 by Christ
1993 Daihatsu Feroza Cylinder Block Parts Assembly Diagram – Daihatsu Feroza / Rocky an SUV type vehicle with a capacity of 5-6 passengers. The concept as a jeep-type vehicle, Feroza worked to target the segment of users who like to conquer the heavy fields, such as in the countryside and mountains. However, the sturdy appearance of Feroza was more favored by young people in urban areas. Meanwhile, Feroza also presents in three generations. Between the period 1989 to 1996, introduced Daihatsu Feroza.
Then in the era of 1996 to 1998, shown Feroza Special Edition, and the latter is Feroza G2 produced between 1996 to 1999. A striking difference between the three generations of Feroza lies in the composition of the features. For the first generation is superior in the engine, then on the next generation of embedded features that do not exist in the previous generation such as power windows, power steering, central door lock, and also uses independent suspension.
1993 Daihatsu Feroza Cylinder Block Parts Assembly Diagram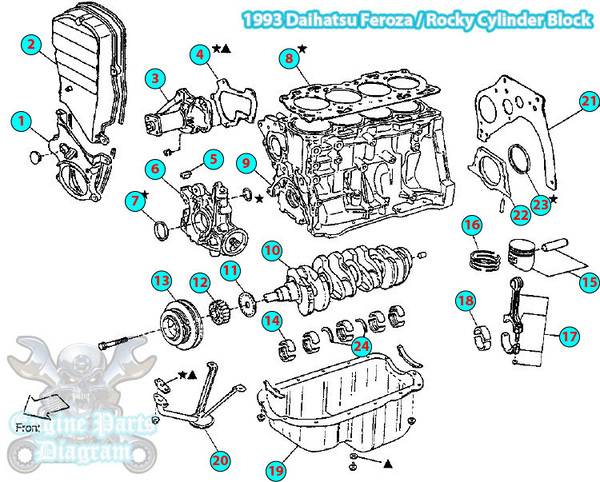 Timing Belt Cover No.1
Timing Belt Cover No.2
Water pump Ay
Water pump gasket
Dust Seal
Oil pump Ay
Oil Seal
Cylinder Head Gasket
Cylinder Block
Crankshaft
Crankshaft timing belt pulley flange
Crankshaft timing belt pulley
Crankshaft pulley
Crankshaft bearing
Piston with pin
Piston ring
Connecting rod
Connecting rod bearing
Oil Pan
Oil pump strainer
Rear endplate
Oil Seal retainer
Oil Seal
Crankshaft thrust bearing
This diagram is based on the Daihatsu workshop manual. Daihatsu Feroza carrying the HD-C-type engine with a capacity of 1.6 liters, 4-cylinder, 16-valve SOHC, gasoline, and water-cooled. For the type of standard and special edition, maximum power generated at 96.3 PS at 5700 rpm and torque reached 13.1 km at 4800 pm. As for the type G2, achieving maximum power of 87.5 PS at 6000 rpm and maximum torque reached 12.9 km at 3600 pm. While transmission offered is a 5-speed manual. Hopefully the article of 1993 Daihatsu Feroza Cylinder Block Parts Assembly Diagram useful for you.