Reset Tire Pressure TPM Light on 2011 BMW 6 Series 640i 650i – The BMW 6 Series (internal designation: F12 – Convertible, F13 – coupe, F06 – four-door coupe) of the German car manufacturer BMW is the third generation of the 6-series. This 6-series based on the current model BMW 5 Series and therefore shares a large part of the technology and equipment capabilities. The November 18, 2010 officially presented by BMW Convertible succeeds the produced since summer 2003 series E63 / E64. It is produced at the Dingolfing plant.
The delivery start and thus also the dealer presentation of the 6-seater Cabriolet in Germany took place on 26 March 2011th The exhibition audience was shown in Detroit 2011, the vehicle at NAIAS. As a successor to the E63 model, a 6-seater coupe is since the autumn of 2011 once again offered. In May 2012, a called Gran Coupe sedan was introduced beyond that competes primarily with the Mercedes-Benz CLS and the Porsche Panamera.
Reset Tire Pressure TPM Light on 2011-2016 BMW 6 Series 640i 650i:
If you receive a low-tire pressure monitor (TPM) warning light while driving and you want to clear or turning off the warning light on your 2011 2012 2013 2014 2015 2016 BMW 6 Series 640i 650i, follow these instructions:
Make sure the vehicle is at a complete stop
Adjust the tire inflation pressure recommended on the tire placard located on the door panel.
Turn the ignition to ON without starting the engine
Press MENU button on iDrive controller to use i menu.
Select VEHICLE INFO
Select VEHICLE STATUS
Next, Start the engine (do not drive away)
Select RESET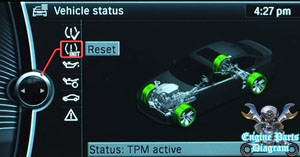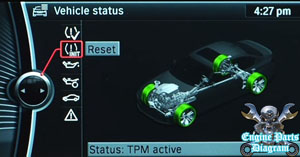 Confirm reset the inflation pressure by selecting "RESET"
Driving for a few miles (kilometers) and then verify that it turns off.
For more details, please watch the following video:
The procedure above can be applied to latest generations of BMW 6 Series F06 / F12 / F13 (2011 2012 2013 2014 2015 2016) models. Hopefully the article of Reset Tire Pressure TPM Light on 2011 BMW 6 Series 640i 650i useful for you. Good Luck! 😀
(Visited 591 times, 1 visits today)