BMW 5 Series (F10) 528i 535i 550i Tire Pressure TPM Reset – F10 is the internal name of the factory cars of 5 series, which the German carmaker BMW presented on 23 November 2009 at the Olympic Stadium in Munich. The F10 replaced the produced since mid-2003 Model E60. Launch of the F10 in Europe was on March 20, 2010. Serial production started on January 7 of 2010.
The car is 4 cm longer than its predecessor, the wheelbase is 10 cm longer. On April 10, 2010, the Touring estate version called under the internal series designation F11 was presented at the AMI in Leipzig. at the International Motor Show 2011 in Frankfurt the fifth generation of the BMW M5 was introduced. In July 2013, the 5-series a facelift was subjected. Like its predecessor, the F10 / 11 is produced at BMW's Dingolfing plant. The Saloon long version (F18) is produced for China in Shenyang. The price ranges in Germany of 41,000 € (520i) to € 113,000 (M5 Competition).
2011 BMW 5 Series (F10) 528i 535i 550i Tire Pressure TPM Reset:
If you receive a low-tire pressure monitor (TPM) warning light while driving and you want to clear or turning off the warning light on your 2011 2012 2013 2014 2015 2016 BMW 5 Series 528i 535i 550i, follow these instructions:
Make sure the vehicle is at a complete stop
Adjust the tire inflation pressure recommended on the tire placard located on the door panel.
Turn the ignition to ON without starting the engine
Press MENU button on iDrive controller to use i menu.
Select VEHICLE INFO
Select VEHICLE STATUS
Next, Start the engine (do not drive away)
Select RESET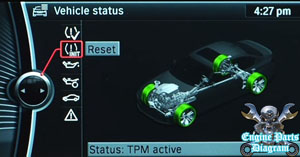 Confirm reset the inflation pressure by selecting "RESET"
Driving for a few miles (kilometers) and then verify that it turns off.
For more details, please watch the following video:
The procedure above can be applied to latest generations of BMW 5 Series F10 (2011 2012 2013 2014 2015 2016) models. Hopefully the article of BMW 5 Series (F10) 528i 535i 550i Tire Pressure TPM Reset useful for you. Good Luck! 😀
(Visited 4,105 times, 1 visits today)