Reset or Initialising the Tyre Pressure System on SEAT Exeo – The SEAT Exeo is an upper-middle-class sedan produced by the Spanish car manufacturer SEAT from 2009 to the summer of 2013. It was established in the D segment. The Seat Exeo is almost entirely derived, not only to the floor but also in most of the bodywork, from the Audi A4 produced from 2001 to 2007. The sedan version has been marketed in Italy since January 2009 with two petrol engines, 1.6l 102cv and 2.0tc 200hp, and two common-rail turbo diesel engines, 2.0tdi 143 and 170 hp.
As of September 2009, the Exeo ST, the station wagon version of the SEAT-class sedan is produced, just over one centimeter longer than the sedan. In 2010, the 1.6-liter petrol engine was replaced by the 1.8-liter 120-cc TSI and the 2.0 TDI de-fueled 120cv diesel was added to the diesel range only in the Reference setup (for the Italian market) and 2.0 TSI Sport and 2.0 propulsion engines TDI 143cv Style is available with the Multitronic Continuous Variant Automatic Transmission, already installed on many Audi models.
Reset or Initialising the Tyre Pressure System on SEAT Exeo:
If you receive a low-tire-pressure monitoring system (TPMS) warning light while driving and you want to clear or turning off the warning light on your 2008 2009 2010 2011 2012 2013 SEAT Exeo, follow these instructions:
Make sure the vehicle is at a complete stop
Turn the engine switch off
Adjust the tire inflation pressure recommended on the tire placard located on the door panel.
Turn the ignition to ON position without starting the engine.
Locate and press the SET button on the center console until you hear an audible signal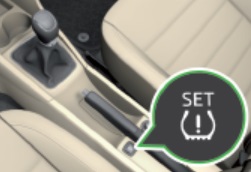 This procedure should be work on all generation of SEAT Exeo (2008 2009 2010 2011 2012 2013) model years. Hopefully the article of Reset or Initialising the Tyre Pressure System on SEAT Exeo useful for you. Good Luck!
(Visited 807 times, 1 visits today)