How to Reset Airbag Light on Honda Fit Jazz without Tool – The Jazz (sold in some countries under the name Honda Fit) is a B-segment MPV 5-door and 5-seater compact the Japanese manufacturer Honda, in production since 2002. In Europe, it sold 500,000 copies between 2002 and 2009. The name Jazz had already been used by Honda also for a series of scooters. The first series was produced from 2002 to 2008, it is 385 cm long, 168 cm wide and 153 cm high. It has a wheelbase of 245 cm and a luggage compartment of 380 liters.
The second series is produced by the end of 2008; It maintains the stylistic approaches of the previous albeit with several improvements. The dimensions are increased by 5 cm in length (390 cm) and 2 in width (170 cm), while the height (153 cm) has remained unchanged. The engines, all petrol at presentation, with a power of 90 hp and 99, are more powerful than 15-20% and the weight is slightly lower.
How to Reset Airbag Light on Honda Fit Jazz without Tool:
If you receive an SRS warning light while driving and you want to clear or turning off the warning light on your 2003 2004 2005 2006 2007 2008 2009 2010 2011 Honda Fit Jazz, follow these instructions:
Make sure the ignition switch is OFF.
Remove panels under the steering wheel to access the interior fuse box
Locate and unplugged the SRS interface plug. This is a yellow female plug that is attached to the wire loom under the dash.
Insert a paper clip or wire to the plug interface.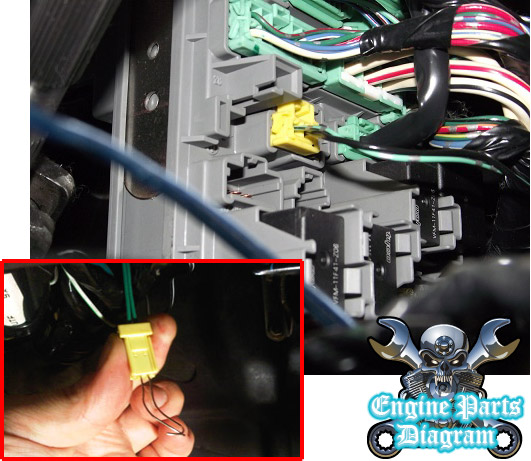 Turn the ignition ON (do not start the engine)
When SRS Light turn off, Quickly disconnect the paper clip or wire
When SRS Airbag Light comes back on, quickly reconnect the paper clip or wire
SRS Light should turn off, and Quickly disconnect the paper clip or wire again
When the reset is complete, it will flash twice
Turn the ignition off and then start the engine to verify the indicator has been reset
For more details, please watch the following video:
This procedure should apply to all models of Honda Fit Jazz (2003, 2004, 2006, 2007, 2008, 2009, 2010, 2011). Hopefully the article of How to Reset Airbag Light on Honda Fit Jazz without Tool useful for you. Good Luck!
(Visited 4,675 times, 1 visits today)