2016-2017 Mazda CX-9 Tire Pressure TPMS Warning Light Reset – This premium SUV Mazda worth juxtaposed with European brands. Complete safety technology in it. Mazda brings the power of the engine design from the previous model into the new design New Mazda CX-9, the MZI 3.7 V6 engine and automatic transmission for the 6-speed mode level that can be converted into a manual. The equipped highest power of 204 kW at a speed of 6,250 rpm and torque (torque) of 367Nm at 4,250 rpm, the engine power MZI 3.7 offers the best acceleration with outstanding NVH performance.
Mazda technology prioritizes safety on New Mazda CX-9 is based on the philosophy of Proactive Security who took the approach of 'focus on the driver'. New CX-9 insert i-ACTIVSENSE technology, which is a series of high-level security technology designed to support the process of safe driving. With i-ACTIVSENSE, Mazda gives drivers more 'eye' to be alert to their surroundings and thus proactively can avoid the danger and prevent accidents.
2016-2017 Mazda CX-9 Tire Pressure TPMS Warning Light Reset:
To reset the Tire Pressure Monitoring System (TPMS) light on your 2016 2017 Mazda CX-9, follow these steps:
Stop the vehicle in a safe place and turn the engine switch off and engage the parking brake.
Let the tires cool, then adjust the tire inflation pressure recommended on the tire placard located on the door panel.
Turn the engine switch to the "ON" position
Locate and press the tire pressure warning reset button until the tire pressure warning light blinks 2 times and a beep sound is heard once.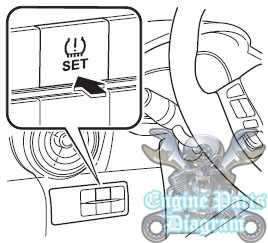 Wait for a few minutes with the engine switch in the "ON" position
Finally, turn the engine switch to the "ACC" or "LOCK" position.
The procedure above can be applied to the latest generations of Mazda CX-9 (2016 2017 model years). Hopefully, the article of 2016-2017 Mazda CX-9 Tire Pressure TPMS Warning Light Reset useful for you. Good Luck! 😀
(Visited 4,366 times, 1 visits today)