How to Reset Tire Pressure TPMS Warning Light on Toyota Auris – The Toyota Auris is a car model built by Japanese automaker Toyota, which belongs to the compact two-three volumes or five doors and replaces the Toyota Corolla range from February 2007. The name "Auris" was not however adopted in the major markets of Oceania where the new pattern continues with "Corolla the old name". The platform is completely new compared to the Corolla and adopts MacPherson front suspension and rear axles classic fencing interconnected wheels to the engines less powerful while the 2.2-liter diesel multiple arms are available (multilink system).
In Japan is also optionally available with all-wheel drive and sports variants equipped with an engine 2.4 16V 170 hp and a 3.5 V6 with 275 horsepower all-wheel drive and automatic 6-speed gearbox. In early 2010, it marketed the new model of the Auris, revised in some details of the front, made sportier by tinted headlights, a new grille and a new bumper design, and tail, with new lights and bumpers. To report the entry into the Auris HSD hybrid version of the range. In the Italian market are two trim levels (base and Sol) for all engines, excluding the 2.2 D-Cat which has only one. The 1.6, the 1.4 D-4D and 2.0 D-4D Sol have two versions with automatic transmission; a three door and the other five. In total there are 20 models.
How to Reset Tire Pressure TPMS Warning Light on 2015 Toyota Auris:
To turning off the Tire Pressure Monitoring System (TPMS) light on your 2015 2016 2017 Toyota Auris, follow these steps:
Stop the vehicle in a safe place and turn the engine switch off and engage the parking brake.
Adjust the tire inflation pressure recommended on the tire placard located on the door panel.
Turn the engine switch to the "ON" position
Open the glove box, locate and press the tire pressure warning reset button until the tire pressure warning light blinks 3 times.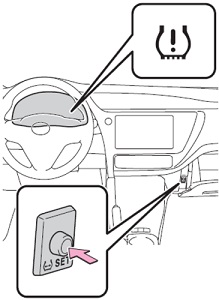 Wait for a few minutes with the engine switch in the "ON" position
Finally turn the engine switch to the "ACC" or "LOCK" position.
For more details please check the following video:
The procedure above can be applied to the latest generations of Toyota Auris (2015 2016 2017) model years, which is equipped with a Tire Pressure Monitoring System (TPMS). Hopefully the article of Reset Tire Pressure Light on 2005-2015 Toyota Corolla useful for you.
(Visited 15,141 times, 1 visits today)