2016 Toyota Yaris Tire Pressure Monitoring System Light Reset – The Toyota Yaris is classified as a subcompact car segment B produced by the Japanese automaker Toyota since 1999. The Yaris designation is used in Europe, Australia and the United States while in Canada the car is sold as the Toyota Echo. Japan and some Asian countries it is marketed as Toyota Vitz and the notchback sedan is sold as the Yaris Sedan and Toyota Belta. The Yaris is sold in Europe since 1999, for 3 and 5-door and in the fitting base, Sol, Luna and TS (Toyota Sports), the latter the more sporty.
The car was an immediate success, for this already now was called "little genius", and in 2000 was elected Car of the Year. It was produced initially with two petrol engines: a 1.0 cm³ of 68 horsepower and a 1.3 cc 86 hp that carries the VVT-i (Variable Valve Timing) technology developed by Toyota to which was added in 2001 a sportier 1.5 from 106 horses (also in the turbo version of 150 and 163 horses on a numbered series of cars) and a 1.4 D-4D turbodiesel 75. The Base version included between the supplied digital instrumentation, on-board computer, 2 airbags, body colored door handles, belt tensioners in the front and rear seat belts, Front electric windows, sliding rear seat, rear and active front head restraints and closing centralized.
2016 Toyota Yaris Tire Pressure Monitoring System Light Reset:
If you replaced a wheel, tire, TPMS sensor etc. and are now getting a warning light on your car, then the sensor need to be reset. To reset the Tire Pressure Monitoring System (TPMS) light on your 2016 Toyota Yaris, follow these steps:
Stop the vehicle in a safe place and turn the engine switch off and engage the parking brake.
Adjust the tire inflation pressure recommended on the tire placard located on the door panel.
Turn the engine switch to the "ON" position
Locate and press the tire pressure warning reset button until the tire pressure warning light blinks 3 times.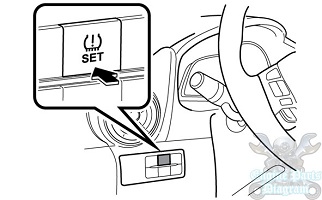 Wait for a few minutes with the engine switch in the "ON" position
Finally turn the engine switch to the "ACC" or "LOCK" position.
For more details please check the following video:
The procedure above can be applied to the latest generations of  Toyota Yaris (2016 2017) models, which is equipped with a Tire Pressure Monitoring System (TPMS). Hopefully the article of 2016 Toyota Yaris Tire Pressure Monitoring System Light Reset useful for you.
(Visited 9,970 times, 1 visits today)