How to Reset the SRS Airbag Light on 2003-2011 Honda Element – Honda Element is a crossover manufactured by Japanese carmaker Honda Motor Company in the years 2003-2011. Introduced for export to the US, Japan and Canada as competition for compact SUVs and tall hatchback. The car is based on the concept of Model X was designed in 1998 and presented in Detroit in 2001. Its essence was to combine the best features of pick-ups and SUVs.
Model X has developed a group of young engineers who want to be able to have a car "suitable" and for trips, eg. In the mountains or on the beach, and to meet or college. The vehicle is built on the floorboard of the CR-V. Some technology shares including model Accord. The 2007 model year was introduced to offer variety Element SC (Street Cruiser), which had better equipment and revised exterior styling of the body. In 2009 the model underwent a small facelift. Besides Russia, where he appeared occasionally element was not available in Europe.
How to Reset the SRS Airbag Light on 2003-2011 Honda Element:
If you receive a SRS warning light while driving and you want to clear or turning off the warning light on your 2003 2004 2005 2006 2007 2008 2009 2010 2011 Honda Element, follow these instructions:
Make sure the ignition switch is OFF.
Remove panels under steering wheel to access interior fuse box
Locate and unplugged the SRS interface plug. This is a yellow female plug that is attached to the wire loom under the dash.
Insert a paper clip or wire to the plug interface.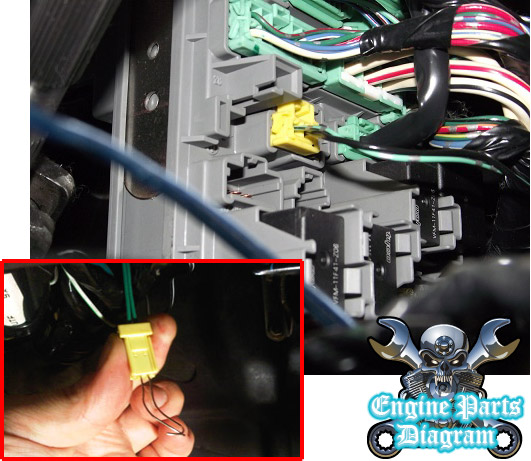 Turn the ignition ON (do not start the engine)
When SRS Light turn off, Quickly disconnect the paper clip or wire
When SRS Airbag Light comes back on, quickly reconnect the paper clip or wire
SRS Light should turn off, and Quickly disconnect the paper clip or wire again
When reset is complete, it will flash twice
Turn the ignition off and then start the engine to verify the indicator has been reset
For more details, please watch the following video:
This procedure should applies to the all models of Honda Element (2003, 2004, 2006, 2007, 2008, 2009, 2010, 2011). Hopefully the article of How to Reset the SRS Airbag Light on 2003-2011 Honda Element usefull for you. Good Luck!
(Visited 3,653 times, 1 visits today)