2005-2010 Chrysler 300 2.7 L EER V6 Engine Timing Marks Diagram
2005-2010 Chrysler 300 2.7 L EER V6 Engine Timing Marks Diagram – The Chrysler 300C is a luxury passenger car segment E produced by the American manufacturer Chrysler since late 2004. It is five places with the longitudinal front engine and rear-wheel drive or four-wheel, which replaces the Chrysler 300M. It is available with four-door sedan body styles and family (Touring) hatchback. The latter was sold in North America under the name as Dodge Dodge Magnum, with a similar look to other models of Dodge.
In 2011 it launched the second generation model, which is sold in Europe under the Lancia brand Continental, returning to the designation of "Thema" used in the top end of the 1980s the brand. A 300C concept car was officially unveiled at the New York International Auto Show 2003. Its designer, Ralph Gilles, took up this project 300C design features of 1957, particularly in the front. The model is manufactured in Brampton, Canada in Graz, Austria, and in Beijing, China. Use the Chrysler Group LX platform, which it shares with the Dodge Charger and Dodge Challenger contemporaries.
2005-2010 Chrysler 300 2.7 L EER V6 Engine Timing Marks Diagram: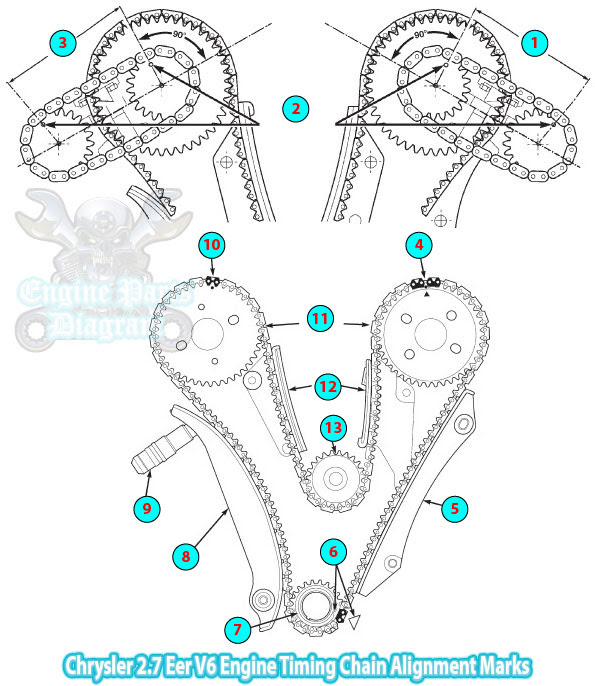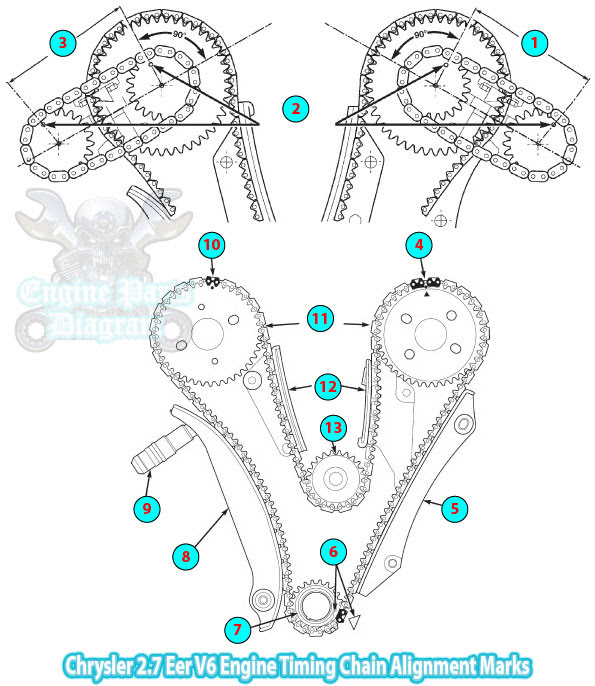 12 PINS
CAMSHAFT TIMING MARKS
12 PINS
CAMSHAFT TIMING MARKS
CHAIN GUIDE
CRANKSHAFT TIMING MARKS
CRANKSHAFT SPROCKET
CHAIN TENSIONER ARM
CHAIN TENSIONER
CAMSHAFT TIMING MARK
INTAKE CAMSHAFT SPROCKETS
CHAIN GUIDES
WATER PUMP SPROCKET
Note: When aligning timing marks, always rotate the engine by turning the crankshaft. Failure to do so will result in valve and/or piston damage.
This diagram applied for Chrysler 300 2005 2006 2007 2008 2009 2010 year models that use 2.7 EER V6 Engine. This engine also applied on:
1998-2001 Chrysler 300M (Europe)
1998-2004 Chrysler Concorde
1998-2004 Dodge Intrepid / Chrysler Intrepid
2001-2006 Dodge Stratus
2001-2010 Chrysler Sebring
2006-2010 Dodge Charger SE
2008-2010 Dodge Avenger
2002-2004 Chrysler Intrepid (Canada)
2009-2010 Dodge Journey (non-US markets)
Hopefully the article of 2005-2008 Dodge Magnum Timing Marks (2.7 L EER V6 Engine)useful for you.
(Visited 7,496 times, 1 visits today)