2001-2010 Chrysler Sebring Timing Mark (2.7 L EER V6 Engine)
2001-2010 Chrysler Sebring Timing Mark (2.7 L EER V6 Engine) – The Sebring is a car built by Chrysler. Since 2010, it is replaced in North America and in Britain by the Chrysler 200, and was rebadgée Lancia Flavia in Europe. It is manufactured since 1995 when it was proposed only Coupé version, based on the Chrysler JA platform. It is assembled at the plant in Sterling Heights (Michigan) in the United States. In 1996, a convertible version appeared, and in 2001 the sedan.
The car is named after the famous racing circuit of Sebring, Florida, where takes place every year an endurance race, the 12 Hours of Sebring. The line is inspired by the 1970 Plymouth Satellite The platform used was that of the Mitsubishi Eclipse. Latest version of the coupe whose production stopped in 2005 to make way for the sedan and convertible. The Russian military-industrial consortium GAZ (Gorky Avtomobilny Zavod) – headed by the oligarch found Deripaska – since April 2006 has a license to produce in Russia under the brand Volga 2006 model of Sebring (and his cousin Dodge Stratus), renamed Siber. He has cost 124 million euros. An annual production of 65,000 Volga Siber is planned until the end of 2010.
2001-2010 Chrysler Sebring Timing Mark Diagram (2.7 L EER V6 Engine):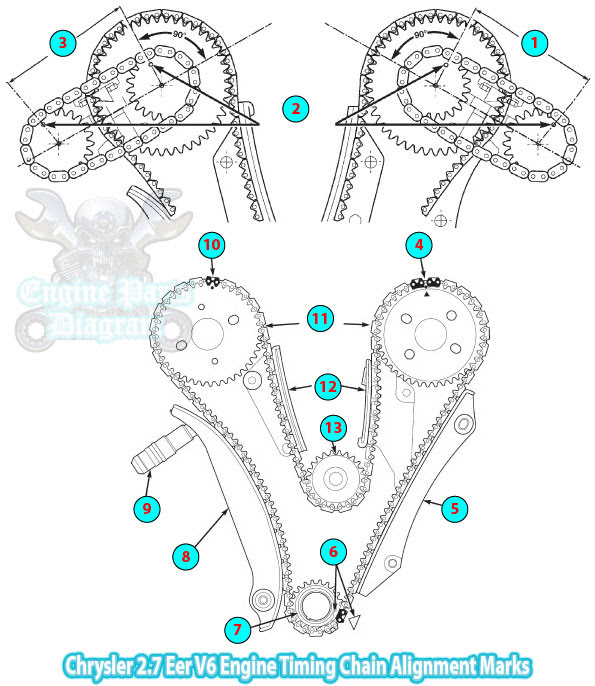 2 PINS
CAMSHAFT TIMING MARKS
12 PINS
CAMSHAFT TIMING MARKS
CHAIN GUIDE
CRANKSHAFT TIMING MARKS
CRANKSHAFT SPROCKET
CHAIN TENSIONER ARM
CHAIN TENSIONER
CAMSHAFT TIMING MARK
INTAKE CAMSHAFT SPROCKETS
CHAIN GUIDES
WATER PUMP SPROCKET
Note: When aligning timing marks, always rotate engine by turning the crankshaft. Failure to do so will result in valve and/or piston damage.
This diagram applied for Chrysler Sebring 2001 2002 2003 2004 2005 2006 2007 2008 2009 2010 years model that use 2.7 EER V6 Engine. This engine also applied on:
1998-2001 Chrysler 300M (Europe)
1998-2004 Chrysler Concorde
1998-2004 Dodge Intrepid / Chrysler Intrepid
2001-2006 Dodge Stratus
2006-2010 Dodge Charger SE
2008-2010 Dodge Avenger
2002-2004 Chrysler Intrepid (Canada)
2009-2010 Dodge Journey (non-US markets)
Hopefully the article of 2005-2008 Dodge Magnum Timing Marks (2.7 L EER V6 Engine)useful for you.
(Visited 1,701 times, 1 visits today)