2004-2017 Nissan Quest Timing Marks Diagram (3.5 L VQ35DE Engine)
Last Updated on December 14, 2019 by Christ
2004-2017 Nissan Quest Timing Marks Diagram (3.5 L VQ35DE Engine) – The first two generations of the Quest created by a joint venture with Ford Motor Company, which marketed its own version as Mercury Villager. In 2003 ended the joint production with Ford. The first generation of the Quest served in North America as a successor to the Axxess M11 – known in Germany as the Prairie – which was sold in the US only in 1990 and in Canada from 1990 to 1995 inclusive. After the cessation of production of the Mercury Villager in 2002. Nissan has developed an independent Van, who came on the market of 2004.
The V6 VQ is an automotive internal combustion engine, four strokes, six-cylinder V bored directly in the aluminum block, open to 60 °, cooled by water, with a crankshaft 4 levels, with 4 trees overhead camshaft driven by a timing chain, with 2 aluminum heads 24 OHV. VQ V6 engine is among the 10 best engines in the world, almost every year since the creation of the election. The VQ engine replaces the VE engine and VG engine. At Renault, it replaces the L V6 engine which was produced by the French Society of Mechanics, common to Renault and PSA.
2004-2017 Nissan Quest Timing Marks Diagram (3.5 L VQ35DE Engine):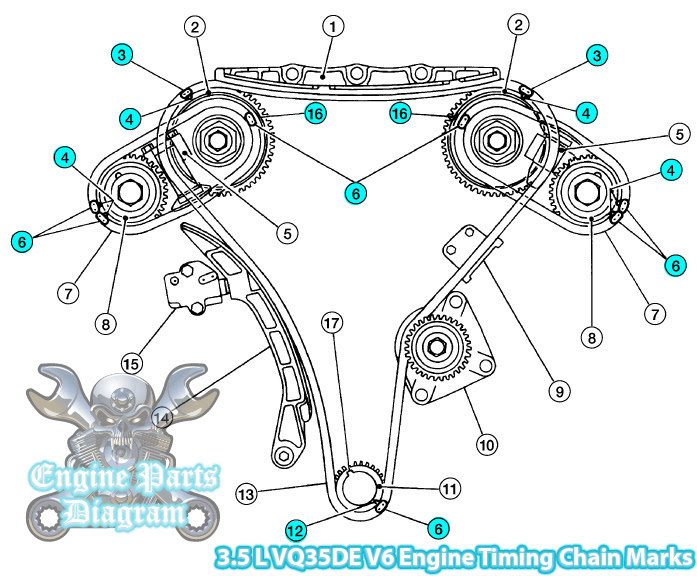 Internal chain guide
Camshaft sprocket (intake)
Mating Mark (copper link)
Mating Mark (punched)
Secondary timing chain tensioner
Mating mark (yellow link)
Secondary timing chain
Camshaft sprocket (exhaust)
Tensioner Guide
Water pump
Crankshaft sprocket
Mating Mark (notched)
Primary timing chain
Slack guide
Primary timing chain tensioner
Mating mark (backside)
Crankshaft Key
The figure shows the relationship between the mating mark on each timing chain and that on the corresponding sprocket, the components installed.
For more information please watch the following video:
This diagram is based on the Nissan workshop manual. Besides applied to the Nissan Quest 2004 2005 2006 2007 2008 2009 2010 2011 2012 2013 2014 2015 2016 2017 years models, this figure is also valid for the 2001-2004 Nissan Pathfinder, Infiniti QX4 2001-2004, 2002-2004 Infiniti I35, 2002-2016 Nissan Altima, 2003-2006 Nissan 350Z, 2003-2007 Infiniti G35, Infiniti FX35 2003-2008, 2003-2016 Nissan Murano (Z50), 2006-2008 Infiniti M35, Infiniti JX35 2013-2013, 2014-2016 Infiniti QX60. Hopefully the article of 2004-2017 Nissan Quest Timing Marks Diagram (3.5 L VQ35DE Engine) useful for you.