2004-2010 Mercury Mariner Timing Marks Diagram (3.0L Duratec Engine)
Last Updated on February 9, 2020 by Christ
2004-2010 Mercury Mariner Timing Marks Diagram (3.0L Duratec Engine) – The Mercury Mariner is an SUV of the car manufacturer Ford. The model was introduced to the market in 2005 and is a sister model of the Mazda Tribute and Ford Escape, but has due to the positioning of the brand Mercury on a more upscale amenities. The mechanism is identical to the Ford Escape, but the Mercury is offered only with automatic transmission. There are also stylistic differences, z. B. a two-tone interior and the typical for Mercury "waterfall" radiator grille with emblem.
Since 2006 there is the Mariner Hybrid. The mechanism is similar to its sister model Ford Escape Hybrid. Both models are full hybrid models, which means that they purely electric, with gasoline engines or both engines can be operated either together. The switching is performed automatically in order to achieve the best performance and efficiency at any speed and load. With 155 bhp (114 kW) of the Mariner Hybrid accelerates almost as quickly as the conventionally powered Mariner with 200 bhp (147 kW) -V6 engine.
2004-2010 Mercury Mariner Timing Marks Diagram (3.0L Duratec Engine)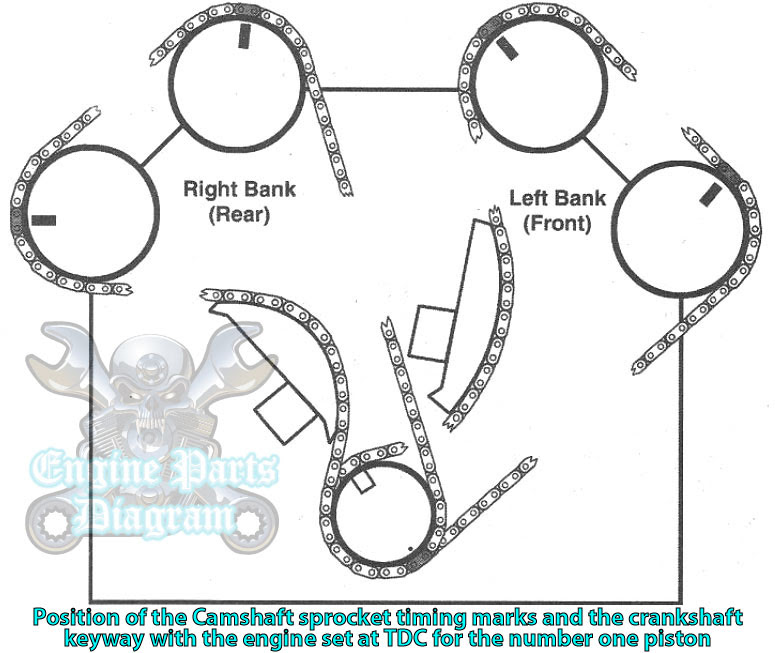 Because of a lack of clearance, this procedure is very difficult with the engine installed in the vehicle. Adding to the difficulty of the job is the fact that there is no Top Dead Center (TDC) timing mark on the crankshaft. This makes it tricky to align the camshaft sprockets to the crankshaft. The number one piston should be at Top Dead Center when the crankshaft pulley keyway is at the 11 o'clock position. Please watch the following video for more details on removing and installing the timing chain on the 3.0 L Duratec V6 engine:
This diagram applies to the Mercury Mariner 2004 2005 2006 2007 2008 2009 2010 year models that use 3.0 L Duratec V6 engine. This engine is also applied to:
Jaguar S-Type
Lincoln LS
Mazda MPV
Mazda6
Mondeo ST220
Ford Five Hundred
Mercury Montego
Ford Freestyle
Ford Fusion
Mercury Milan
This diagram is based on the Mercury workshop manual. Hopefully the article of 2004-2010 Mercury Mariner Timing Marks Diagram (3.0L Duratec Engine) useful for you.
(Visited 1,001 times, 1 visits today)