2003-2007 Infiniti G35 Timing Marks Diagram (3.5L VQ35 Engine)
Last Updated on February 10, 2020 by Christ
2003-2007 Infiniti G35 Timing Marks Diagram (3.5L VQ35 Engine) – G sedans are auto segment D produced by Infiniti from 1991 to 2014. Four generations have been launched. The first two generations were based on the Nissan Primera, following the Nissan Skyline. While the first two generations were confined to the North American market, where the Primera was not sold by Nissan, the next generation based on the Skyline were sold in Asia before arriving in Europe. A coupe version appeared with the third generation of the sedan. A version roadster arrived in summer 2009 and is based on the fourth-generation G sedan.
G has truly become a luxury car. This third-generation is no longer a Primera but renamed Nissan Skyline. It is much larger than its predecessor (23 cm long, 6 cm wide, 7 cm in height and larger 200 to 300 kg!). Two novelties for this new G: a coupe version and an AWD version called G35x. In 2005, it benefited from a very light facelift that has little touched the body. It shares the same body and the same optics as the Skyline Coupe, which is sold in Japan.
2003-2007 Infiniti G35 Timing Marks Diagram (3.5L VQ35 Engine)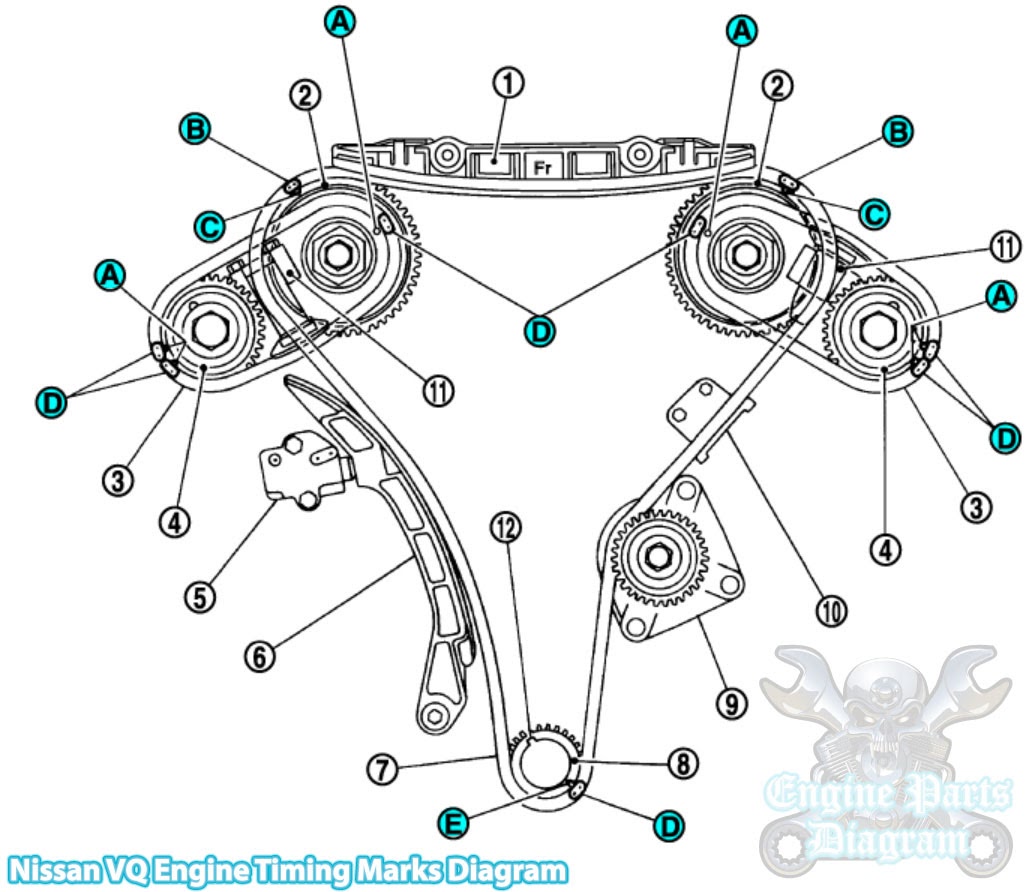 1. Internal chain guide
2. Camshaft sprocket (INT)
3. Timing chain (secondary)
4. Camshaft sprocket (EXH)
5. Timing chain tensioner (primary)
6. Slack guide
7. Timing chain (primary)
8. Crankshaft sprocket
9. Water pump
10. Tension guide
11. Timing chain tensioner (secondary)
12. Crankshaft key
A. Mating mark
B. Mating mark (pink link)
C. Mating mark (punched)
D. Mating mark (orange)
E. Mating mark (notched)
Note: The above figure shows the relationship between the mating mark on each timing chain and that on the corresponding sprocket, with the components installed. For more detail please watch the following video:
The V6 VQ is a motor thermal internal combustion engine, four strokes, six-cylinder V bored directly in the aluminum block, open at 60 °, cooled by water, with a crankshaft 4 levels, with 4 shafts overhead camshaft driven by a timing chain, with 2 aluminum heads 24 OHV. VQ V6 engine is one of the 10 best engines in the world, almost every year since the creation of the election. The VQ engine replaces the VE engine and VG engine. At Renault, it will replace the L V6 engine which was produced by the French Society of Mechanics, common to Renault and PSA.
This diagram is based on the Infiniti workshop manual. The above diagram applies to Infiniti G35 2003 2004 2005 2006 2007 model years. Hopefully the article of 2003-2007 Infiniti G35 Timing Marks Diagram (3.5L VQ35 Engine) useful for you.